Arts
Review: 'In The Heights'
City Lights production of 'In the Heights' hits highs and lows, volume-wise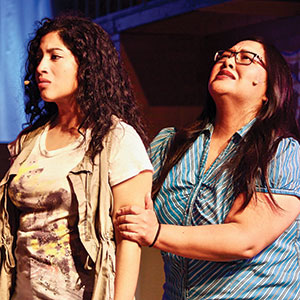 The cast of In the Heights, now playing at City Lights Theater Company, would do well to check their headsets before curtain. Last weekend's opening night performance was marred by numbers in which it seemed some singers' mics were turned up to 11 while others were on mute.
This was especially unfortunate because Lin-Manuel Miranda's lyrics drive the plot as much as Quiara Alegria Hudes' dialogue does. A lot of songs are structured as conversations between characters, and a lot of those conversations came across as one-sided.
The sound issues were even more vexing since City Lights' cast features some stellar voices. Cristina Hernandez is formidable as Nina, who has managed to break out of the barrio in Manhattan's Washington Heights to study at Stanford. As Nina's boyfriend Benny, Robbie Reign also has great vocal chops. But during their duets, Reign's singing was subsumed by Hernandez's.
As a counterpoint, David Leon and Marsha Dimalanta are solid as Nina's parents. Their solos—Leon's "Inutil/Useless" and Dimalanta's "Enough"—powerfully reveal their conflicting views on when to hold on to their daughter and when to let go.
This more mature insight is likely attributable to Hudes, who wrote the book for In the Heights based on a show Miranda wrote in college. Miranda's score foreshadows Hamilton: Characters are freestyling one minute and harmonizing the next. At City Lights, a trio led by music director Samuel Cisneros ably tackles all the rhythmic change-ups.
Frankie Mendoza's choreography also adeptly negotiates genres, from salsa to street. While the City Lights ensemble didn't have all the moves down by opening night, their energy made up for the occasional misstep.
Granted, any company that takes on In the Heights has some pretty big shoes to fill. The show's 2008 Broadway debut won four Tony Awards, including Best Musical. It was a Pulitzer Prize finalist ahead of Miranda's win for Hamilton and Hudes' for Water by the Spoonful.
As Usnavi, the role originated by Miranda on Broadway, Oklys Pimentel arguably wears the biggest shoes. Pimentel, who has played Usnavi twice before, has Miranda's charismatic sparkle, and he nails the Broadway phenom's intonation whether speaking or rapping.
While Usnavi and Abuela Claudia (Gloria Stanley) serve as the moral center of the action, director Jeffrey Bracco has made sure that City Lights' production is a true ensemble piece, where no one character's story is the focus. Instead, In the Heights comes across as a poignant, loving look at a neighborhood on the brink of major change.
In the Heights
Thru Aug 19
City Lights Theater Company, San Jose
cltc.org