Arts
Italian Family Festa
Focuses on Heritage
The 36th annual festival will screen a film about traditional tomato sauce jarring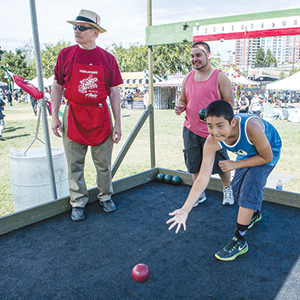 Food has always been a great way to experience a different culture. Behind every native dish there is a story being passed down from generation to generation. Some cultural festivals lose the thread of these stories in a maze of food trucks and activities, but not the Italian Family Festa, which for two full days this weekend celebrates the richness of Italian-American heritage.
"You can go to many festivals and order the food, but what I think is missing is the history" says Ken Borelli, chair of the Italian American Heritage Foundation, the organization which runs the annual gathering.
In the interest of focusing on culture, the 36th annual Festa will feature the world premiere of Pomodoro, a documentary by local filmmaker Michael LoVaglia, which sheds light on the dying culinary art of cooking up and canning tomato sauce at home.
Even when making marinara from scratch, tomato sauce tends to be purchased at a local grocery store. But there was a time when the Italian American community would come together to produce homemade tomato sauces for use throughout the year. The screening includes the opportunity to talk with the director after the viewing.
The same stage showing Pomodoro will also host a workshop on maintaining a traditional Italian-American garden. Led by gardeners from the Emma Prusch Farm Park, the workshop will cover the many different types of vegetables found used in Italian-American kitchens. There will also be a special presentation by Mary Menniti, the director of The Italian Gardens Project.
Children can also join in on the fun with storytelling, coloring and singing at the Teatrino Di Bambini. The San Jose children's cooking school, Cucina Bambini, will teach kids how to make a simple pasta dish while parents learn how to get them involved in the kitchen.
This year, the festival is taking place at History Park in San Jose, which Borelli is really excited about since it's bigger and filled with picnic tables for families to gather around, eat and socialize.
"There are very few venues where you can get families together," he says. "A lot of times we have family reunions"
Italian Family Festa
Aug 27-28, 11am, Free
History Park, San Jose