Arts
TheatreWorks' 'Jane Austen's Emma' Returns to Lucie Stern Theatre
In 'Jane Austen's Emma,' the titular character sings and dances her way
through many poorly planned pairings.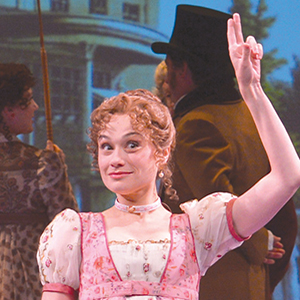 TheatreWorks' musical adaptation of Jane Austen's romantic comedy of manners, Emma, has returned to the Lucie Stern Theatre, the site of its 2007 world premiere. Jane Austen's Emma boasts quite the pedigree: with music, lyrics and book by the Tony Award-nominated Paul Gordon, it is the most successful production in TheatreWorks' 46-year history.
It's easy to understand why. Jane Austen's Emma is a sterling adaptation of the novel, featuring excellent acting, top-notch singing and immersive stagecraft.
First published in 1815, Jane Austen's novel has proven to be a captivating and timeless work—inspiring a multitude of television, stage and film adaptations over the years. In 1948, the BBC produced a TV version of the story; its first theatrical staging came in 1991; and the movies took on the tale twice in two years—first with a modern re-envisioning in 1995's Clueless, and then with the straightforward Emma in 1996 starring Gwyneth Paltrow.
A decade later, TheatreWorks put a musical twist on Emma. Developed during the Palo Alto-based theater company's 2006 New Words Festival, it appears to have been the first-ever musical rendition of the classic novel. In August of 2007, TheatreWorks opened its season with the production, which was eventually staged by various theater companies around the country.
For two hours, the humbly-sized Lucie Stern Theatre is transformed. Through careful costuming and staging, the audience is transported back 200 years—landing in the countryside of Georgian-Regency England.
The plot of Emma—with its many broken hearts, switching of partners and humorous misunderstandings—is a bit reminiscent of Shakespeare's A Midsummer Night's Dream. The story's eponymous heroine steps into the shoes of Shakespeare's impish Puck and acts as the catalyst for all manner of romantic confusion and poorly planned pairings. Emma lives with her elderly father, Mr. Woodhouse, and makes a hobby of playing matchmaker for her friends and neighbors, arrogantly (and incorrectly) believing herself to be possessed with an unparalleled gift for sniffing out romance.
Reprising her 2007 role during the show's premier run, Lianne Marie Dobbs strives to strike a balance between Emma's undeniable charm and her equally undeniable—and irksome—hubris. Richard Easley, making his TheatreWorks debut as Mr. Woodhouse, is delightful in his too-few and fleeting scenes.
At the beginning of the story, Emma takes on the orphaned Harriet (Lee Ann Larkin, stealing every scene she's in) as her protégé and attempts to set her up with Mr. Elton (Brian Herndon), a well-to-do parson. In the process, our heroine reveals herself to be an insufferable snob and deaf to the true desires of her friend, who is clearly in love with Robert Martin (Nick Nakashima). Mr. Martin is, in Emma's mind, not an acceptable match for Harriet, as he is a mere farmer. Mr. Knightly, superbly played by Timothy Gulan, pops up throughout the course of the musical to offer not-so-subtle reproaches to Emma and also make the audience quite aware that their spats are a platform for the bashful awakening of their love.
The musical numbers are quite pleasant and jaunty, and when they are lent the estimable power of Gulan's voice (especially in "Emma") they burst with emotion. Gordon's lyrics cannily capture the wit and dialogue of the novel. Unfortunately, there's no single song that has an infectious hook, like the earworms of Grease's "You're the One That I Want" or Chicago's "All That Jazz." But this is a small quibble given the overall success and craft of the production under the direction of TheatreWorks' founder, Robert Kelley.
There is one scene—the ball—that is quite breathtaking. The stage is lit by candelabra and imbued with a sense of the intimacy of a ballroom. With snow falling behind them, the characters swirl around one another in their beautiful period costumes as the crystalline flakes morph—almost imperceptibly—into stars. It is a tiny detail in a short sequence, especially considering the scale of production. Nevertheless, it is huge in its emotional and artistic impact, and serves as an example of the care that clearly went into crafting Jane Austen's Emma.
Jane Austen's Emma
Thru Jan 2, $19-$80
Lucie Stern Theatre