Arts
The Cypher Dance Company is Born
Newly formed group aims for inclusivity and to find expression through movement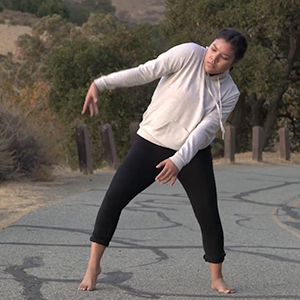 It can be a challenge to express difficult emotions with words. Whether it's a perpetually messy roommate or the exhausting, cumulative frustration of systemic racism, sometimes it seems easier to just endure in silence.
Karina Cervantes knows the feeling well. She has been asked multiple times if she's hopped the fence of her own apartment complex in order to swim in the pool. As a Chicana, she is convinced the question—"Do you even live here?"—wouldn't be asked of a young white woman.
Fortunately for Cervantes, she has another method of communication to turn to, even when she doesn't speak up. As dancer and choreographer, she uses her body to tell the world how she feels.
That's exactly what Cervantes aims to do with "Things I Can't Say Out Loud," the first original showcase by her fledgling Cypher Dance Company. The production aims to call out social inequities through movement.
Cervantes says the show will be an immersive experience, featuring a series of dances along with pre-recorded narration, which will help the audience follow along with the emotions the dancers are working to express. Attendees will be encouraged to reflect on their own experience and actions while taking in the performance.
"I have a lot of anger and frustration, maybe because of how I've been treated in society," Cervantes says. "I created different dances that kind of all relate to each other in that way."
It took some convincing to get Cervantes to strike out on her own. Before she formed Cypher, she had tried more traditional routes into the world of dance, but she consistently encountered economic, cultural and racial barriers. Auditioning at contemporary dance companies, she felt unwelcome as she was greeted by cold stares. Sometimes while working with instructors, she felt them hesitate to touch her—an important component in many dance classes, where teachers must physically move dancers bodies in order to demonstrate proper form.
"I would think, 'I'm not dirty,'" Cervantes remembers. "I felt that shame."
She also felt that the flamenco style she learned as a child was viewed as incompatible with ballet and modern dance. Her movements were often met with disapproval: "No, don't do this; you can't do that."
It was around that time that Cervantes' brother suggested that she stop trying to fit in to a system that didn't seem to understand or respect her. "I was making dances here and there mainly for myself, and I kept auditioning for all these companies," Cervantes says. "And my brother was like, 'Why don't you do your own thing?'"
And so, Cypher was born. Cervantes says the company's goals are multifaceted. She wants to make dance more accessible for low-income individuals—those who can't afford $20 for a single class. She also wants to be more accepting of a wider range of dance styles. And, of course, she wants to help those who have felt marginalized to express themselves.
"As a culture, we're very into silencing ourselves," says Danielle Galvez, a dancer with the company. "We repress our emotions so much that sometimes we can't even remember them."
After their upcoming showcase, Cervantes intends to expand her company's reach through classes led by Cypher's four members. Each have strengths that stretch across multiple genres, from ballet through contemporary and on to hip-hop. The classes will be donation-based and open to all ages. The only thing Cervantes will not tolerate is judgement.
"I wanted to keep that purity in dance without thinking that I had to lose weight or that I had to be a certain type," Cervantes says. "I wanted to create a safe place for people to dance."
At the end of the day, Cypher is ultimately about creating opportunities for those who feel that they've been sidelined for being different.
"It's important for young people to add their voice in, to say what we find beautiful and what we find not acceptable in this world," says Catherine Hsu, another dancer with the company. "To ask how we can combat that in a way that is loving toward everyone."
Things I Can't Say Out Loud
Aug 10 & 11, 8pm, $12
MACLA, San Jose
maclaarte.org