Arts
Oddball Comedy Yucks It Up
The touring stand-up festival gives a glimpse of
comedians past and present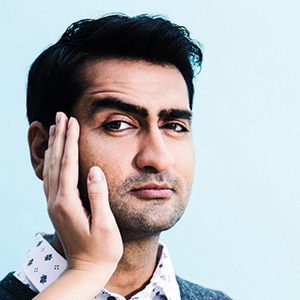 It's easy forget that stand-up comedy is, first and foremost, an American art form. Decades before The Daily Show put Trevor Noah and John Oliver on the map, comedians like Jack Benny and Bob Hope stepped down from the vaudeville stage and ventured out on their own.
These early comics paved the way for the likes of Lenny Bruce, George Carlin, Richard Pryor, Steve Martin, Robin Williams and Jerry Seinfeld. Eventually comedy diversified, as more women and comedians of color picked up the mic—from Joan Rivers and Margaret Cho to Aziz Ansari and Kumail Nanjiani.
It's also easy to forget that stand-up superstars are a relatively recent phenomenon. Andrew Dice Clay was the first comedian to sell out Madison Square Garden, which he did two nights in a row for his 1990 comedy special, Dice Rules. After that, it took 17 years for a comedian to duplicate Dice's feat. Dane Cook sold out two shows at the massive New York venue, for a taping of his Rough Around the Edges special in 2007.
And it wasn't until 2008, that Will Ferrell's nascent online comedy website, Funny or Die, took a page out of the rock & roll promotion playbook by staging a multi-city, multi-performer stand-up comedy tour. That first year, the tour hit only eight venues—all of them on college campuses—and ran just three weeks. After that, the tour went into hibernation, only to return five years later, in 2013, as the Oddball Comedy & Curiosity Festival.
The fourth annual Oddball, which comes to Shoreline Amphitheatre this Friday, will span six weeks when all is said and done—running from late August to early October.
The tour's Mountain View stop is one of its last, and it shows: the lineup is not as strong as it's been for previous dates, which featured the likes of John Oliver, Jim Jefferies and Hannibal Buress. However, for stand-up fans, the Sept. 30 festival should prove interesting for at least two reasons.
Dane Cook
In the mid 2000s, Dane Cook was a megastar. In addition to selling out The Garden, he also released a string of successful live stand-up albums—including Retaliation, a sprawling double-CD featuring nearly two hours of material. This album contained a number of memorable bits, including "The Nothing Fight" and "Itchy Asshole."
The latter of these two tracks ultimately contributed to Cook's reputation as a joke thief, as it was very similar to a Louis C.K. bit. The former—with its accompanying, unflattering impression of a female voice and chauvinistic themes—helped establish Cook as the comedian for bros. He became a punching bag.
All the same, Cook showed serious resilience and a willingness to make fun of himself, while also landing some blows of his own, when he appeared on Louie, Louis C.K.'s fantastic FX comedy. During his appearance he airs his grievances with the comedy world, noting that in 2006 he had the first-ever double-platinum comedy album, was featured on the cover of TIME and had a huge HBO special.
"That should have been, like, my triumph, and I enjoyed it, Louie, for maybe two months," the character Dane says to the character Louis. It was a brilliant few minutes of TV and may prove that Cook is more than what critics have cracked him up to be.
Kumail Nanjiani
Though his name may not carry the same kind of recognition as Dane Cook's, Kumail Nanjiani is well on his way. The star of HBO's insightful tech industry sendup Silicon Valley, Nanjiani has proven he knows a thing or two about deadpanning and finding the humor in his own hangups.
On the show he plays Dinesh, a programmer with the perpetually troubled startup Pied Piper. His trouble meeting women and making friends are regular punchlines.
Oddball Comedy & Curiosity Festival
Sep 30, 5:15pm, $30pm
Shoreline Amphitheatre, Mountain View