Arts
Ladies Comedy Night
Marcella Arguello headlines the Ladies Comedy Night at Blackbird Tavern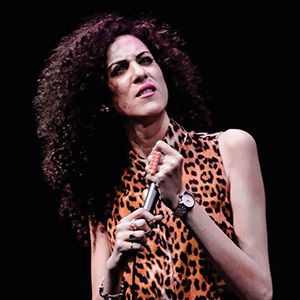 For someone who bills herself an everywoman, Marcella Arguello is hard to miss. It's as much her appearance—slender, 6-foot-something, Salvadoran and afrolicious—as the intangibles, a commanding mix of spot-on wit and self-deprecating candor.
"I couldn't help it, I became a comedian," says Arguello, a Modesto-to-San Francisco transplant and erstwhile education major who fell into entertainment instead. "I was always entertaining everybody, always wanted to be the center of attention and to say something outlandish to get a reaction. I guess that's what drew me to teaching, too. When you're in front of the classroom, you're in control of the situation. There's a level of performance involved."
The 29-year-old will bring her brand of high-energy comedic performance art along with a lineup of four other standups to the Blackbird Tavern in San Jose this week for Ladies Comedy Night in celebration of Women's History Month. Also on the bill: Kimberly Rose Wendt, Chris Burns, Lydia Popovich and Loren Kraut. The Mexican Heritage Plaza's School of Arts and Culture Director Tamara Alvarado will host.
A woman-centric comedy show is something of a rarity in South Bay, says Ato Walker, the event's producer.
"I feel like the show is really important because women need to have an empowered voice in our community," says Walker, who's also a comedian. "Comedy is a place where that can exist without judgement."
Not that Arguello cares much about anyone's bigoted notions anyway. So what that Adam Corolla complains about unfunny women getting stage time for the sake of their gender and Jerry Seinfeld deems diversity unimportant in comedy?
"I mean, I get it, I get that there are some comics out there who think we're only up there because we're female and we get preferential treatment to get booked on a show," she says. "But to be honest, the audience wants to see diversity. They want to see people who look like them. And right now the ratios are pretty off and imbalanced."
Arguello's not out to prove anyone wrong. She's too busy winning awards and opening for the likes of Norm MacDonald to care about gender politics. "Guys get a little intimidated when women are funnier or as funny," she says, "[and] they get a little territorial."
Or, to quote her own quip: "When a guy says he wants a chick with a sense of humor, he means he wants a girl whose boobs bounce when she laughs at his jokes."
Ladies Comedy Night
Fri, Mar 27, 7:30pm