Arts
'A Few Little Things' at The Arsenal
Whether skateboarding or making prints, Sid Enck Jr.
finds inspiration in the surrounding landscape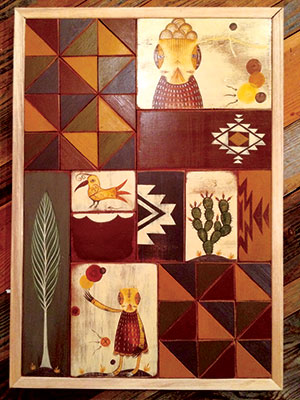 As a skateboarder, artist and screenprinter, Sid Enck Jr. finds himself constantly looking to his environment for objects that can be turned into artistic expression. In the same way he sees a cement curb as a generator of endless physical articulations, Enck sees an old fence board as a medium for his artistic gestures.
Enck's upcoming show at The Arsenal art supply shop and gallery, "A Few Little Things," centers around found and organic materials. "At least 80 percent of (the work) is up-cycled," he says. "It's all wood that I found or collected over the last 7 months." Through the exhibit, Enck explores the concepts of freedom and childhood imagination through a wide range of mediums and materials—all of them held together by his imaginative and detail-oriented style.
Along with art, a love of skateboarding has followed Enck into his adult life. A skater for more than 14 years, Enck rides for Society Skate Shop, Solitaire Skateboards and Spank Grip among others. He also has designed board graphics and other art for skateboarding companies across the country.
"I just like making artwork I feel passionate about", he says.
This enjoyment is evident in his diverse portfolio of paintings, elaborate woodcuts, screen-prints, hand-sewn dolls and metal sculptures—all of which are touched by Enck's natural and serene aesthetic. Deeply inspired by his Choctaw and Cherokee, Enck's art is characterized by Native American imagery, especially geometric patterns, and makes use of organic paints and media. With a style that is both adapted to and reliant upon natural materials, Enck creates a large variety art that all manages to be both intricate and approachable.
Online, Enck sells a range of his work under the label Little Lost Indian. While Enck calls it "some fluke thing that happened with a couple of buddies of mine," Little Lost Indian has evolved into more than just a username for his Instagram and Tumblr. Through his online store, Enck sells T-shirts, sweaters, pins, hand-carved ceramic coffee mugs, tote bags, hand-sewn wool beanies, dolls and even baby bibs.
Enck appreciates the challenge of earning a living as an artist and a skateboarder. "It has its flaws like anything else", he says. To help pay the bills, Enck and his fiancee also run a screen printing business in Santa Cruz.
Enck's aesthetic approach is perhaps best exemplified by his painted woodcuts. Using his home woodshop, Enck cuts boards and rearranges them in geometric patterns that serve as texturally refined canvases for paintings in a southwestern color palette. The pieces are both rustic and sophisticated, evoking a naturalism that is found in all of Enck's art.
While much of his Enck's work draws upon for his Native American heritage—evident in his alluvial sculptures and paintings—another consistent inspiration comes from his artistic friends, particularly Jason Adams. The San Jose skater-turned-artist, who works heavily in printmaking and stencils, is one of Enck's best friends and frequent collaborators.
Lately, Enck has also found yet another inspiration in the vast expanses of the American landscape. "I took a road trip cross-country," he says. "After seeing all the different states and surroundings I started putting together objects to capture that."
For the Arsenal show, Enck has created a miniature universe of art, with metal and mixed-media sculptures, woodcuts, hand-sewn and painted dolls, screen-prints and canvas paintings—not to mention a large teepee installation. "I kind of turned that place upside down and put a little Native American flavor in there," he says. The immersive imagery of the whole show speaks to a palpable desire for liberty.
"It's kind of playing a story on letting go, being free and being a kid again," he says. While his newer work isn't entirely inspired by skateboarding, there is a common creative thread between art and board. In the same way the urban environment becomes a series of possibilities to a skaters sensibility, Enck continues to seek out beauty and narrative in the otherwise overlooked.
A Few Little Things
Mar 7-20, Free