Arts
Identity Art
'Our Heaven' showcases work by local Asian American artists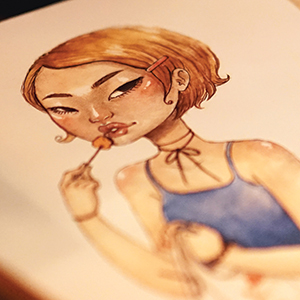 A block from the main corridor of the First Friday Walk, a mass of artsy youth congregated at Social Policy for "Our Heaven"—a mixed-media showcase of 19 local artists with a single common thread.
Inside SoPo, a half-animated video was playing on the wall. Spicy soup bases, udon noodles and soy sauce bottles lined the brightly lit aisles of a supermarket. It was a familiar sight for those of us who grew up accompanying our parents to the store—if your family was Asian, that is.
The video was created by Josiah Columna, a Filipino American artist whose stop-motion animation and found footage mashup was one of many works on display at the cafe-by-day, gallery-by-night venue on Friday. Like Columna, every artist in the room had gone about life bearing the dual identity of an Asian American heritage—the unifying theme of the exhibit.
The name was coined by Angela Wu, the curator of the show, and it refers to an ideology in Chinese history that called for the unification of separate states into one nation. Likewise, "Our Heaven" is the mixed-media coalescence of Asian and Pacific artists throughout the Bay Area.
"Art spaces now are not incredibly accessible to POC unless its a specified POC gallery or space," said Wu, a first-generation, Chinese Vietnamese photographer from San Jose. "Especially in coffee shops or any art gallery, you're most likely going to see very white art."
In line with her criticism of what she describes as a Eurocentric saturation of the high-end art industry, all of the work on display at "Our Heaven" is created by local Asian artists.
As a result, the photographs, illustrations and polychromatic collages that cover the cafe walls are a meditation on the intricate world of scattered identities and language barriers in 21st century America.
On its opening night, over 200 people occupied the corner of First Street and Paseo De San Antonio, crowding into the building and spilling out onto the patio for fresh air and cigarettes. Most of them were in their 20s, fresh faces with septum piercings and brightly colored hair—a vibrant community of the chic, conscious kind.
"For the first time in my life, I'm actually proud to represent my Asian Americanness," said Samantha Huang, whose bubblegum pink depiction of boba tea pops brightly against the cafe's white wall.
Huang is a Taiwanese American painter based in Fremont. Like so many first-generation kids, she grew up ashamed of being Asian, despite her parents' attempts at connecting her with Taiwanese culture. And like so many of the artists there, self-expression in the form of art making is one way she's reclaiming her roots.
"It's been really liberating to be able to express myself in the truest form and not have to filter myself at all," Huang said.
Loss of culture, assimilation and the gradual reconciliation of an inherently mixed identity are running themes at the exhibit. In a particularly nuanced artist statement, illustrator Aaron Coleman sums up the catch-22 existence of a multicultural upbringing. "I was too Black to be Korean and too Korean to be Black," Coleman writes.
Asian and American. To be one or the other: that seems to be the question.
"I think everyone at some point goes through an identity crisis where they have to reconnect with their culture," Wu said. "I'm mixed East Asian, mixed South Asian, so a lot of the time I would tell people that I'm Chinese or Vietnamese, but not both." When I spoke with her on the phone, however, Wu didn't hesitate to describe herself in both terms.
Eight months ago, the idea for a family-style exhibit dedicated to bringing visibility to an entire community was born when one of Wu's friends asked if she knew of any galleries that would show his work. Her response echoes the words of one Tamil Sri Lankan American comedian named D'Lo, who I spoke with a while back.
"When things aren't being fulfilled in a certain space, you just have to create your own."
Our Heaven
Thru Aug 26, Free
Social Policy, San Jose
bellanocoffee.com