Arts
Local Artists 'Reactivate'
Shuttered Dept. Store
Space that housed Ross Dress For Less becomes 'Local Color' art collective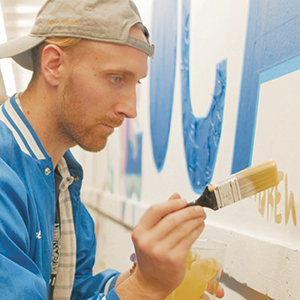 Under the banner of "Local Color," artists Erin Salazar and Drew Clark, locals themselves, enlisted a posse of young creative people to temporarily transform an abandoned downtown San Jose building into a gathering place for artists. The enormous venue in question sits at 27 S. First St., formerly Ross Dress for Less, which closed last summer. The building was previously Black Sea Gallery, a failed furniture store, and also famously the site of a botched plan to open a House of Blues. Before that, it was downtown's legendary Woolworths store for over half a century.
For the last few years, Salazar and Clark have cemented themselves as part of a new generation of multidisciplinary artists trying to improve the dreary urban fabric of downtown San Jose in a multitude of ways. Salazar organizes mural painting escapades with her non-profit, The Exhibition District, while Clark pools his resources with numerous musicians, ballet dancers, event designers and visual artists under the banner of The Commons.
With the 30,000-square-foot Ross Dress for Less sitting empty and the parcel of land hypothetically slotted for another high-rise apartment tower, Salazar and Clark talked the landlord into giving them the keys to create a transitory safe space. As a result, there's a Marley floor for modern dancers to do their thing. Sound systems appear in various corners. All the Ross branding is gone.
Along the northern wall, right where the Woolworths lunch counter used to be, there is a giant collaborative mural. In another area, a handful of comfy couches are arranged around a performance space. In the rear half of the store, many of the white merchandise racks still exist, but Salazar and Clark plan on using them to cordon off spaces for artists to hang their work and hawk their goods. The spaces will be rented out starting at $50 a month. Up front, the old Ross cashier counter remains—only now the spot where people used to purchase $5 fake plants, knockoff watches and post-expiration-date Swiss chocolate is a pop-up retail space.
All in all, Local Color—or "LoCo"—functions on multiple levels. It's a safe place for local people of any color. Or it's a place to paint in many colors. Or it adds color to a terminally beige neighborhood.
Of course, the new high-rise could be looming in a few months, or it could be much longer for the building to get demolished. No one yet knows. Impermanence is the perspective to be celebrated here. "We're trying to put the 'temporary' back in contemporary," Salazar says.
Local Color
27 S. 1st Street
5pm, Free
San Jose