Arts
The Body Distilled: Loie Hollowell
New York-based artist shows paired down, slick representations of the female form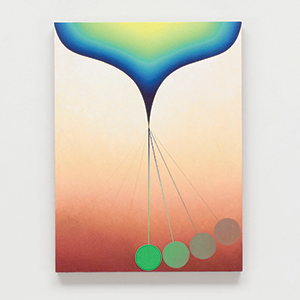 Before Loie Hollowell opted for the brush and canvas, her body was the medium. Standing naked on a pedestal at her college campus, smearing pomegranate juice all over herself while moaning—this was the beginning of her artist's journey.
Several years and a cross-continental move later, her work still centers on the human body. Through a deliberate use of color, light and sacred iconography, the New York-based painter creates images that evoke the most intimate and sexually explicit moments of our lives. "When I started realizing I wanted to paint, it just felt natural to make paintings about my own physical bodily experiences—my personal narrative, which is something I've always felt I have complete control over," Hollowell says.
While rooted in autobiography, her paintings kindle a sense of universality. Anatomical elements are the nucleus of each canvas, embodied in simple shapes that recur through art history like the lingam—a phallic symbol of generative energy, or the ogee—an S-like curve akin to a woman's breasts. "The more the figure is pared down into geometrical, formal spaces, the more the viewer can really experience the sensations of the colors and the textures and the sense of light, rather than having to think about some feminist statement," she says.
By reimagining her subject through a reductionist lens, Hollowell zooms into the taboo realms of the body—particularly the woman's body, rendering large-scale images of organs and orgasms that simultaneously function as abstract landscapes. Ridding her work of excess, her language of abstraction is an attempt to convey sensations in their purest form. "I'm trying to get to that original feeling," Hollowell explains. "So if I'm painting about penetration or loneliness or birth, that first feeling of that in my body is what I'm trying to get at in the painting."
"Point of Entry" is Hollowell's first solo show in the Bay Area. Presented by Pace Gallery, the exhibit features eight new paintings, two triptychs and nine works on paper. As the California native ponders her visit, she rejoices in having come full circle with her craft. "It feels like I'm coming home, visually," Hollowell says. "My sense of light, my sense of feminism and my sense of self were definitely grounded in more of a West Coast mentality, and I'm glad that I'm getting an opportunity to have it show where it comes from."
Point of Entry
Thru Nov 2, Free
Pace Gallery, Palo Alto
pacegallery.com