Arts
Review: 'Lord of the Flies'
A Theatre Near U teams with Pear Theatre for take on William Golding's classic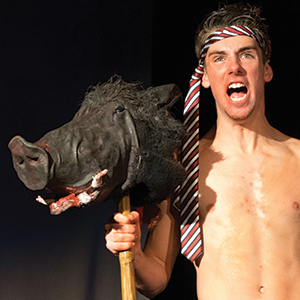 Ten young men—angry, lost and scared—shed their polished upbringing and descend into tribalist violence in the Pear Theatre's production of Lord of the Flies. Based on the novel by Nobel Prize-winning author William Golding and adapted for the stage by Nigel Williams, the play faithfully translates the tale about the tenuous line separating civilization from chaos.
Featuring a cast of aspiring young actors from a variety of Bay Area junior high and high schools, the play is presented by the Palo Alto-based youth theater company, A Theatre Near U, in cooperation with the Pear in Mountain View.
Just as in the novel, the play follows the plight of a small group of schoolboys marooned on an unpopulated island somewhere in the Pacific. Though the group attempts to work together at first, factions soon form and the children fight among themselves as they struggle to survive and find rescue.
An allegorical tale first published in the U.K. in 1954, Lord of the Flies was Golding's response to the rise of Hitler, and feels particularly relevant in today's fractious political climate. "It is easier than we think to fall into meanness," says Tanna Herr, co-founder of A Theatre Near U.
As the group cleaves in two, opposing leaders emerge. Ralph—played by Jackson Wylder, an incoming Columbia University freshman from Palo Alto—is the first to take charge and attempts to organize the boys around a few focused objectives: surviving, keeping a signal fire lit and having fun. Jack, the play's antagonist, is played by Saratoga native Raymónd McCarthy, a rising freshman at the Stella Adler Studio of Acting.
The set is minimal yet efficient. Platforms constructed from wood beams stand in for the island's craggy peak, while the gray-chalked floorboards and ever-changing backdrop set the tones for a beach atmosphere. This was aided by the cast's ability to believably gaze into the ocean or crawl through mountainous vegetation.
The boys carried the show without missing a beat. The dialogue exchange flowed naturally even though there were often 10 boys on stage at once.
Lord of the Flies
Thru Aug 5, $20+
Pear Theatre, Mountain View