Arts
Foreign Relations
Art imitates life imitating art in the City Lights Theater production of 'M. Butterfly'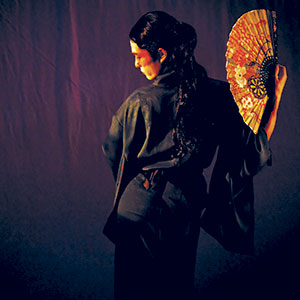 In classic Chinese opera, female roles were traditionally played by men because, playwright David Henry Hwang's script sarcastically suggests, "only a man knows how a woman is supposed to act." Deeply rooted concepts of how men and women—as well as Easterners and Westerners—are supposed to act form the nucleus of Hwang's provocative gender-bending play, M. Butterfly, currently showing City Lights Theater.
Puccini's 1904 opera, Madama Butterfly, has proven inspirational over the years—spawning the Broadway musical Miss Saigon and influencing the narrative arch of Weezer's critically acclaimed concept album, Pinkerton. Something about the doomed-geisha story must resonate still. The Tony Award-winning M. Butterfly is surely one of the most thoughtful and intriguing of the opera's spinoffs. City Lights does an excellent job with the production, which is loosely based on the incredible true story of Bernard Boursicot, a French diplomat, and Shi Pei Pu, a Peking opera singer who seduced Boursicot into committing acts of espionage.
The play unfolds mostly via flashbacks, which are narrated by the play's main character, Rene Gallimard (Kit Wilder). Spanning the 1960s, '70s and '80s, it's the tale of Gallimard, a French diplomat in China falling for Peking opera star Song Liling (N. Louie). Their relationship has ramifications—not only in their personal lives, but politically, as well. The play is set against the backdrop of the Chinese Cultural Revolution and the Vietnam War, when Western and Eastern relations were particularly strained.
The nebbish Gallimard, who first encounters Song at a performance of Madama Butterfly, sees their relationship as paralleling the famous opera in which Caddish American Naval officer B.F. Pinkerton marries loyal, beautiful geisha Cio-Cio San (Butterfly), then abandoning her.
To Gallimard, the character of Butterfly represents the ideal dream girl: submissive, humble, lovely, and undemanding. He fancies himself a more benevolent and noble version of Pinkerton, the powerful white man to whom she's hopelessly devoted. Butterfly (and therefore Song) symbolizes the Western male dream of the perfect Eastern woman—a delicate, exotic flower who will yield to his wishes, much as Eastern nations will yield to Western dominance, or so he thinks. It's clear from the start, however, that Gallimard's—and, perhaps, the audience's—preconceived notions of East/West and female/male dichotomies are going to be punctured in a major way, and ideas of gender, sexuality, and cultural identity will be questioned.
The plot of M. Butterfly, especially since it is rooted in a true story, is juicy enough—part classic opera, part soap opera—but what makes it such good theater is how ingeniously the play is structured. The flashbacks mix with Gallimard's frequent breaking of the fourth wall to address the audience, creating a thrilling play-within-a-play environment, which echoes the theme of identity being itself a performance. We, like Gallimard, are never quite sure what is reality and what is fantasy. Also impressive is how Hwang ambitiously links the Western notions of masculine and feminine to those of Western and Eastern culture. It can be heavy-handed at times but the themes are well worth exploring.
Though the entire small cast of the City Lights production does a good job, its success really relies on the performances of two people. Wilder, who's also City Lights' associate artistic director, gives an astonishing tour de force performance as Gallimard. He appears in almost every scene and remains compelling throughout. Though the character's actions and words are not always likable, Wilder makes the sometimes-pathetic Gallimard utterly human.
At first, I found co-star N. Louie's performance as Song artificial and overly mannered until I realized, of course, that was exactly the point in this exploration of fact vs. fiction, of image vs. truth. Although much of the show belongs to Wilder, Louie, too gives a very deft and skillful performance.
Costumes, set, and supporting actors are all fine but it's Hwang's twisty writing and ambitious tackling of big themes, and the powerhouse performances of Wilder and Louie that make City Lights' "M. Butterfly" a standout.
Note: "M. Butterfly" contains adult language and full nudity.
M. Butterfly
Thru April 19
$17-$32