Arts
A Punk Rock Picture Show
Seeing Things Gallery hosts early punk photog with 'Michael Jang is NO FUN'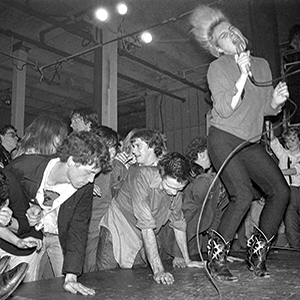 Seeing Things Gallery's newest show, "Michael Jang is NO FUN" features more than 80 vital snapshots captured during photographer Michael Jang's time cavorting through the burgeoning scene in the 1970s.
Featuring everyone from Iggy Pop to David Bowie, and even photos from the last performance of the Sex Pistols, Jang's collection of photos are truly rare (this is the first time the collection is being shown in America) and nostalgic. But beyond its rarity, the collection radiates an intense and intimate energy, providing unique glimpses into an oft-lionized, but rarely seen, fleeting cultural movement.
Although his photos are heavily sought after—with collections of his family portraits on permanent display at the SFMOMA, as well as an upcoming show at the de Young Museum in 2018—Michael Jang spent much of his career working quietly as a commercial and private photographer. Still, he found time to nab plenty of photos of iconic people along the way. It was only when faced with maturity—coupled with the fact that his kids had grown—that Jang decided to start digging into his archives.
Originally from Marysville, California, Jang took his first picture at 9 years old—a snapshot of legendary Giants outfielder Willie Mays. Through high school he was involved with many light-show productions, which secured him a spot at CalArts in Southern California. But it wasn't until well into his time there that he found his love for photography. "I was never good at school conventionally," Jang says, "So when I found I could just take pictures and pass, I thought it was great."
Jang went on to attend graduate school at the San Francisco Art Institute, where the bulk of the photos in "NO FUN" were shot. Employing a fake-it-till-you-make-it approach and a imaginative attitude, Jang managed to capture punk icons in both the heat of the musical moment and in quieter, composed displays.
"I thought, you know, photography is kind of primal," he says. "In a sense it's like hunting, where both use the verb to shoot. It could have been hunting, or I could have been a graffiti artist hunting for a wall after midnight. I just loved the hunt and the challenge."
Unlike other photography shows, Jang doesn't want visitors to be able to scan the walls in a few seconds and get the gist. "I want to draw you in, slow you down, and let you absorb it in a more thoughtful way."
If anything "Michael Jang is NO FUN" is a bit of a misnomer. The joviality and warmth of the images is clear in his close-up and sometimes-chaotic punk portraits—suggesting anything but a lack of enjoyment.
Michael Jang is NO FUN
May 5, 7pm, Free
Seeing Things Gallery, San Jose