Arts
'The Manresa Seasons' at
the Art Museum of Los Gatos
David Kimball Anderson is one of the many works on display
at the newly opened 'Manresa Seasons'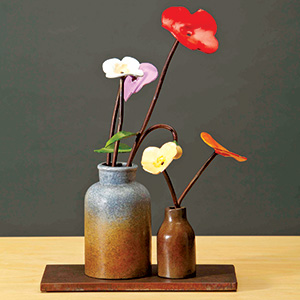 The world is an indifferent place governed by the chaotic whims of nature. Humanity's feeble attempts to corral these inexorable forces are futile and ultimately resolve in destruction and decay. And David Kimball Anderson is just fine with that. In fact, the Santa Cruz-based artist finds it all quite beautiful.
Anderson is interested in classical beauty—in balance and contemplation. He looks for elegant forms out there in the world, in places overlooked or too familiar to be bothered with. In Ranchland, his show that just closed in San Francisco, Kimball photographed pieces of utilitarian ranch equipment, then rebuilt them, highlighting the humble grace of rusted troughs and cisterns.
Given Anderson's penchant for finding the aesthetic appeal in ruins, it is appropriate that his new show, currently on display at the Art Museum of Los Gatos, is directly linked to a destructive event. The Manresa Seasons came about after a July fire ripped through the two-star Michelin rated Manresa restaurant in Los Gatos. At the request of Manresa owner David Kinch, Anderson had been installing a new still life sculpture at the beginning of each season, and now these seasonal sculptures and other bronze still lifes have found a home at the Art Museum of Los Gatos.
These sculptures, unlike some of Anderson's others, aren't meant to contain a narrative. Rather, he says, they're "a realist or representational image that's meant to evoke feeling." The still lifes depict delicate twigs, leaves and flowers contrasted with the heavy pots and bottles from which they emerge—new life springing from forgotten, man-made objects.
Considering that the works on display aren't meant to convey a narrative, it makes sense that Anderson might bristle at any of the pieces in The Manresa Seasons being described in narrative terms. And so, when the museum's executive director suggested one recent afternoon that one of Anderson's new still lifes might be called a "transition piece," the artist replied brusquely.
"I don't do transition," Anderson says. "What I do is I do whatever the fuck I wanna do." He went on to explain that, much like the forces governing the natural world his work is "all over the map. I'll shift gears and do a piece about astronomy tomorrow and I'll do a piece about landscape the following day and then I'll do a series of watercolors about energetic fields in the body the next day."
And yet, while Anderson's work mirrors the chaos of the wild, his art is not without purpose. "If someone were to say 'What do you do?' or 'Why are you doing this?' I would say I hope I am offering others the opportunity to deepen their lives," he says.
The Manresa Seasons
Nov 6-Jan 31, Thu-Sun 12-4pm, $5