Arts
Wingrove's Dance Company
Celebrates 35 Years
The longtime local choreographer presents her newest program, 'Heart on Fire.'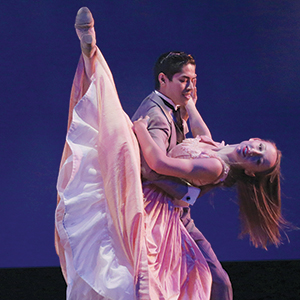 Margaret Wingrove is hitting two significant milestones this year. First, the longtime choreographer and head of the Margaret Wingrove Dance Company is celebrating her troupe's 35th year of presenting quality dance programming in San Jose. Second, Wingrove celebrated her 80th birthday earlier this year.
This Thursday and Friday, May 19 and 20, Wingrove debuts her latest show, Heart on Fire—a selection of three premiers, including 'Moments,' 'We Have Flowers,' and 'Janis,' a depiction of the iconic rock & roll singer Janis Joplin. The pieces will feature Wingrove's signature blend of classical and modern choreography.
A variety of guest artists will be joining the company for Heart on Fire. There will be musicians from the San Jose Chamber Orchestra, conducted by Maestra Barbara Day Turner and playing compositions by Schoenberg, Glazunov, and Borodin. The company will also be sharing the stage with dancers from Silicon Valley Ballet: Alexsandra Meijer, Amy Marie Briones, Akira Takahashi and Kendall Teague.
Also accompanying this performance, guest concert pianist Mark Anderson, playing Chopin's Nocturnes series. A Bay Area native, Anderson is the assistant professor of piano and chamber music at the University of British Columbia. He also serves as the executive director of New World Music Academy in Pleasanton.
Wingrove founded her critically-acclaimed dance company in 1981. It remains, to this day, San Jose's longest-standing modern dance company.
Heart on Fire
May 19-20, 8pm,$22-$37
California Theatre, San Jose