Arts
A Thousand Words of 'Peace'
New photography exhibit at Foothill College aims to enhance understanding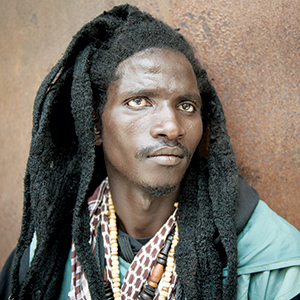 Negative misconceptions about Muslims abound, especially in America. Ron Herman, a photography professor at Foothill College, challenges these stereotypes in his recent exhibit, Messengers of Peace, at the Krause Center of Innovation Gallery.
"Some people may feel threatened by diversity, or even hostile to it, resulting in the mistreatment of others," Herman says in a news release for the show.
Herman spent four weeks in the West African country of Senegal, researching religious diversity between the nation's Muslim majority and Christian minority as part of the Fulbright scholarship he received in 2016. His photographs record the daily lives of the people of Muridiyya—one of four Sufi Muslim brotherhoods. This mystical sect is one of the most prominent in Senegal, which merges African customs and Islamic practices.
His images titled Mame Ndiam with Hair Pin, Djily and Fajulie Sowe in the Kitchen show Senegalese men, women and children in front of chipped paint walls. Their piercing gaze and calm sentiment draw the viewer in and encourage a connection—an understanding of shared humanity.
Their patched clothing, long dreadlocks, patterned necklaces and spartan living conditions provide a glimpse of a hardworking and pious lifestyle.
"We have a very narrow view of Islam, one that has been distorted by mainstream media," Herman says. "We need to expand the range of visual representation of this massive religion and its diverse practitioners."
As he traveled through the cities of Dakar, Kenia and many more within Senegal, he captured the people's work life, religious practices and an essence of their day-to-day lives.
Herman provides an alternative narrative to the common mainstream portrayal of Muslims in the American media. "Because of the demographics of the local area, and to better prepare ourselves to be engaged citizens in our ever-changing global society, it is important that we all work toward intercultural understanding," Herman says.
"How we treat people is largely based on how we see them," he says, "and photography is the most popular form of representation in contemporary society."
Messengers of Peace
Thru Mar 30, Free
Foothill College, Los Altos Hills