Arts
Miguel Machuca: 'Drawing Light From Darkness'
Local artist has new solo show at the Triton Museum of Art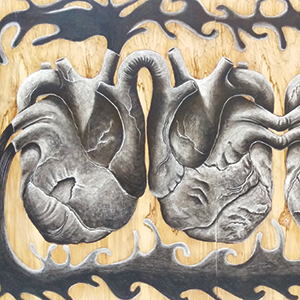 There are 54 card drawings in the Mexican game of Lotería. You'll recognize the images of La Mano (the hand), El Corazon (the heart) and La Calavera (the skull). The hand waves unattached to an arm, the heart is an ugly organ pierced by an arrow, the skull is the smiling face of death staring at you with empty, black sockets for eyes. In his own way, artist Miguel Machuca has created a similarly illustrated universe. Drawing Light from Darkness, the title of his solo show at the Triton Museum, is replete with recurring symbols that fill out his deeply personal mythology.
It isn't just that Machuca draws eyes, hearts, animal horns, nails, flowers, moons and birds. His canvases are as painstakingly designed as mandalas or hieroglyphics. He tells visual stories in charcoal that are intricate and crowded with meaning. Two quasi triptychs take up half of the gallery. One of them, Orchestrated Religion, is flanked by imagery that's consumed with the body's decay. The central image, Part 1, could be the artist's image of god.
Headless, a wreathed heart floats above the god-like body. His bare chest has been stitched back together. An eye stares out from the center of the removed heart. A pair of bull's horns jut up from it and the black wings of an eagle or vulture spread out behind this nightmarish head. Corn and sheaves of wheat sprout up from the earth. There are also moons, nails and Hokusai-like waves that are about to break and crash down upon him.
To his left, Part 2, Sister Deception presents two skeletal figures hunched on the ground beneath a tree with orbed eyes for leaves. Much of his work is disconcerting like this: You may be looking at a canvas, but it's also looking right back at you. The sky is draped in a spiderweb. Plant-like tendrils rise from one of the creature's hands then turn into plumes of bilious smoke.
The second triptych hanging on the same wall includes Human Body Evolving Pose, 7th Sense and Full Consciousness in the Divine. All three were made this year. Machuca's hand is sharper, more deliberate now, and the symbolism, though related to the earlier work, has evolved. The canvases are still macabre, redolent of death (Machuca is a cancer survivor), but not as heavy-handed. The meanings are more oblique. There's even a small, strange sculpture, Uncertain Death, containing cracked eggshells in a nest of human hair all suspended without air beneath the dome of a glass bell jar.
Miguel Machuca: Drawing Light from Darkness
Thru Oct 21, Free
Triton Museum of Art, Santa Clara
tritonmuseum.org