Arts
Mobile Digital Arts & Creativity Summit comes to Palo Alto
All of the art on display at the first-ever Mobile Digital Arts and Creativity Summit
was created using mobile devices, such as the iPad and mobile phones.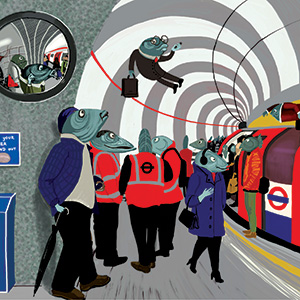 Late last year, Kyle Lambert had a big moment. The British visual artist became famous nearly overnight after uploading a time-lapse video of his frame-by-frame photorealistic recreation of a Morgan Freeman photograph. You may have seen the clip, which has more than 13 million views on YouTube.
Seth Schalet, executive director of the Pacific Art League in Palo Alto, saw the video, and he was blown away. It would have been one thing if Lambert had made the image using a variety of precision brushes, but the artist had used little more than his finger and an iPad.
"It changed a lot of people's minds about what can be done," Schalet says of the painting, created over the course of 200 hours in an iPad app called Procreate. "People went, 'Oh, my gosh. That's art.'"
Schalet pointed to Lambert's painting of Freeman and other similar "milestone moments" as the catalyst for the Pacific Art League's exhibit last year of art made exclusively on mobile devices and this year's first-ever Mobile Digital Arts and Creativity Summit—mDAC for short—to be held this weekend at the Pacific Art League's building in downtown Palo Alto.
The conference kicks off Friday evening, Aug. 1, at 5:30pm, with a free opening celebration, featuring food, wine, live iPad painting demonstrations and an exhibition of art made on mobile devices, including tablets and smart phones.
The paid portion of the summit will be held on the following two days, Aug. 2 and Aug. 3. Over the course of Saturday and Sunday, artists of varying degrees of ability will attend workshops on multiple mobile art apps, using the iPad to make comics and 3D modeling using mobile devices. According to Schalet, whether you are a beginner or an advanced artist, there will be something for you. "This is for everybody and that's the beauty of it," he says.
Schalet says he is excited for the summit, which he believes to be the first of its kind. The executive director says he likes to think of the Pacific Art League as an organization that challenges the established boundaries of what art can be.
The PAL is, after all, headquartered in Palo Alto, "smack in the middle" of Silicon Valley, he says. "The ethos of the valley is to really push the edge on new things. We really see ourselves as wanting to be the nexus of art, creativity and technology."
Mobile Digital Arts & Creativity Summit
Aug 1, 5:30pm; Aug 2-3, 8:30am
$129-$200