Arts
'Mona Lot Moore' emcees
Silicon Valley Pride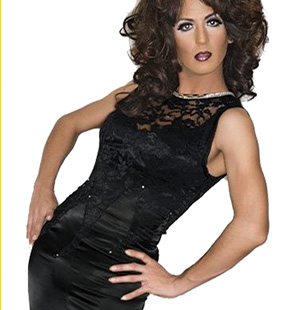 Mona Lot Moore, in earlier incarnations, was less refined, prone to tossing her wig off on a whim for dramatic effect or straying from the dance routine.
"Off-the-cuff, you could say, just making it up as I go along," she—well, in this moment dressed down in skinny jeans and a polo, he, Ramon Reynaga Jr.—says outside of Crema Coffee Roasting Company. "I used to put on a crap-ton of makeup and think I looked fabulous. I swear to God, though, I was just a pig in a wig." But having recently joined the cast of the longest-running drag queen show in Vegas, Reynaga's focus after seven years entertaining club audiences in Silicon Valley as a man in a dress has shifted to precision.
"I'm an illusionist now," he says, flitting his eyelids. "I have to look exactly like another woman, in this case Cher and Celine [Dion]."
With his long face, delicate frame and pronounced cheekbones, it's a flawless transformation. A little shading, a full wig, a little tucking, a little tape and a fresh, close shave.
"She's the consummate professional, a favorite around [the South Bay]," says Phil Archer, a retired drag queen, albeit a much burlier one who used to grace local stages as a hairy, bejeweled Bearina. "I really do think she's the future of drag in Silicon Valley. She has the vision, the talent, the ability to connect with youth, which we desperately need."
It was an art form for an oppressed community. Men, predominantly gay, dressed as sensationalized women for entertainment. The South Bay drag scene, once a thriving community of cross-dressing philanthropists, has faltered in recent years as the lead organization has taken a step back to restructure.
The Imperial Lion Royal Monarchy was formed in 1990 to raise money for nonprofits and give the gay community—victimized by political and police persecution in San Jose at the time—an outlet to express their dramatic side. It was an extension of a much older Imperial Court System started 45 years ago in San Francisco.
"It was a good introduction to drag, but also a very supportive group of people," says Archer, 51, who was inducted in 2000 as Emperor 30, or Emerald Bear Millennium Emperor, and later granted a permanent role in the organization. "In those early days, we didn't have a lot of out-and-proud role models. But the monarchy not only introduced me to other gay people, it taught me how to put together fundraising events, write up business plans and find a public voice for our community."
Also to blame for the lack of drag shows: a dearth of venues. The number of gay bars dwindled from the double-digits a decade ago to barely a handful. Splash and Renegade's are the only two San Jose venues with monthly drag shows. Mona, who will emcee Silicon Valley Pride this week with her drag mother and aspiring Miss Gay USA, Alina Maletti-Galore, hosts an every-fourth-Friday show at Splash. Fans can also find her at the Billy DeFrank Center's calling the numbers at every-third-Wednesday BINGO night.
"Oh, we'll make a comeback," promises Mona, who hosts an annual springtime Closet Ball fundraiser, where, to paraphrase, aspiring queens can make their debut as a caricature of all that is glamorous and womanly.
While the monarchy attempts to reorganize its cross-dressing kingdom, there's a new reign in town. Therese Wonnacott, a former Vegas showgirl whom everyone calls Aunty Anita, held California's first Panache Pageant, a drag show with categories across the sexual orientation spectrum. While gay men have tended to dominate drag, Aunty Anita, a transgender woman, wants to open the stage to trans queens and straight "faux queens."
"Everyone welcome," she says, with a grand sweeping gesture. "That's my policy. This pageant is loud, over the top; it's about glamor and beauty and style. If that's your thing, you are going to shine."
Mona Lot Moore and Alina Maletti-Galore will emcee at Silicon Valley Pride. Aug. 17, Discovery Meadow, 180 Woz Way, San Jose. svpride.com.