Arts
Local High Schooler's
Mural Contemplates Time
New public art project pairs Notre Dame senior with professional artist.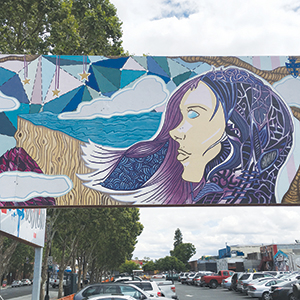 When one of her teachers came around asking if any students wanted to work on a public art project, Jamie Friedman says she was immediately interested.
"I was excited about it," the senior at Notre Dame High School says of her involvement in the mural—an initiative of the San Jose Downtown Association and the Property-Based Improvement District. In fact, as she recalls, her excitement was initially unmatched by any of her peers. "I was the only one who took it seriously."
The mural, which was completed earlier this month, is elevated by stilts and now overlooks South Second and San Carlos streets. Painted on two large, wooden boards—one facing the Tech Shop, the other facing the U.S. District Court building—the work is meant to symbolize the passage of time, something Friedman and her classmates think about a lot these days.
On the portion of the mural facing South Second Street, a profile of a young woman's head looks past gears and a clock; on the board facing San Carlos Street, another profile of a young woman looks back toward the first face. One face represents the past; the other, the future.
"The two both look to each other," Friedman says, explaining that she personally looks to her own past for insights, while looking to the future with hopes and aspirations.
The young artist, who has been drawing and painting her entire life, says she hopes to use her abilities in a future career—perhaps as a conceptual artists.
The backside of the mural, which faces a large parking lot, was created by the professional, Oakland-based artist Marcos LaFarga.
For his portion of the art project, LaFarga says he was asked to respond to the images created by Friedman, while also keeping in mind the region's technology-oriented economy.
LaFarga is known for his work as a graphic artist, and is particularly versed in hand-drawn and hand-painted typography. On the backside, he wrote the words "The Future is Now," which he says reflects both Friedman's theme and the Silicon Valley tech boom.
"Is San Jose a futuristic city?" LaFarga says, paraphrasing one of the questions he asked himself during the process of painting the mural. "I thought it could be. It is leading in tech. And so, the word 'Future' came into play."
The mural is the latest of many sponsored by the Downtown Association. Its prominent placement at the corner of South Second and San Carlos streets is meant to add beauty to the area and to serve as a marker for the resurgent South First Area—or SoFA—district, which was once a bustling arts and nightlife center and is becoming known for its live music, restaurants and art galleries once again.
"I think it enriches everybody's lives," LaFarga says, speaking of the power of public art. "I love it because everybody can see. Everybody can enjoy it. I do plenty of gallery work, but I get more satisfaction having work in a public space where everybody can see it and enjoy it. I think everybody should have access to it—especially the youth and the kids."
Which is why he was especially pleased to be invited to work with Friedman on this latest project. "I was really stoked," he says of being asked to contribute.
Friedman is also pleased with the way everything has turned out. The mural was painted last summer, but wasn't put up until now, as city zoning laws had to be changed before it could be placed where it now stands.
"It's amazing to see it there," Friedman says. "My friends think it's really cool. They keep joking about how I'm famous now."