Arts
'The Swings' Transform Playground Equipment Into Musical Instrument
Traveling public art project makes its final stop at Plaza de Cesar Chavez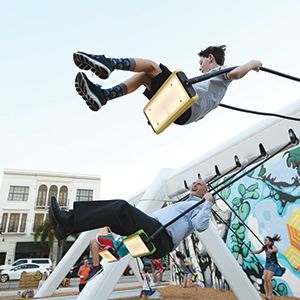 A new piece of public art coming to downtown San Jose aims to bring the community together with a ubiquitous piece of playground equipment.
Starting Aug. 4, a giant swingset will play music in the Plaza de Cesar Chavez. The nationally touring art installation features 21 rainbow-colored seats that produce notes made by gentle instruments like pianos, harps and xylophones. As participants coordinate their swings, the set produces a fuller, more satisfying melody—a breezy song to fill San Jose's central-most park.
"We see the Plaza de Cesar Chavez as the heart of downtown," says city spokeswoman Elisabeth Handler. "San Jose has been focused very intently on activating the plaza to make downtown congenial, attractive and engaging for the people who live and work there." Conceived by the Montreal-based public art organization Daily Tous les Jours, The Swings have made stops in Colorado, Detroit and Manhattan's financial district. They conclude their tour in San Jose. The piece enlivens the park, which recently began hosting food trucks and adirondack chairs to entice regular visitors who use the park for purposes other than hitting kickflips.
The two-month exhibit will also add to the city's burgeoning public art scene. Beyond more traditional works, such as murals and yarn-bombing, organizations like sponsor Zero1 have been pioneering a tech-inspired artistry. And the city has reflected this movement in their installation of pieces like the undulating blue lights, which shine down on Santa Clara Street from the underside of the Highway 87 overpass.
"San Jose is ideally located in so many ways to be that nexus for the technology world and the world of culture and art," Handler says. "We feel as though we're riding the wave of a really strong flow of interest in cultural expression."
Adobe and Applied Materials also joined the sponsorship team for the project. And Handler notes that these corporations have long lobbied the city to bolster downtown's artsiness. "We want to make multiple places in downtown San Jose that are actually fun to be in," she says. "Being out in the open air with friends and family and colleagues and getting a little physical exercise and making music at the same time—what could be better?
The Swings
Aug 4-Oct 2
Plaza de Cesar Chavez, San Jose