Arts
Local Girl Goes Broadway
'Book of Mormon' taps Willow Glen native for touring production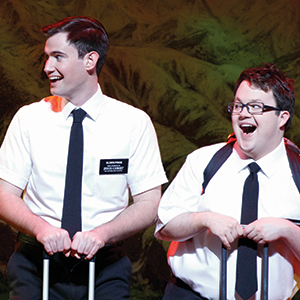 Something often overlooked about The Book of Mormon—better known for its irreverence and controversy—is the musical's sense of affirmation. Perhaps no character embodies that spirit more than Nabulungi.
"She's a young, inspired, innocent girl, the light of the play, the inspiration to all the people in her village," says Myha'La Herrold, a Willow Glen native who assumes the role in her Broadway debut for the show's return to the South Bay this month. "She's this picture of pureness and hope."
The 21-year-old Carnegie Mellon University theater major first saw the production in Pittsburgh, Penn., when Tony Award-winner and fellow Carnegie Mellon alumna Deneé Benton played the part. "I was in love," Herrold says. "Nabulungi is sort of the quintessential ingénue, which was exciting for me because I had never seen an ingénue who looks like me, which I think shows that the world of theater is evolving."
Not long after watching Benton's performance, Herrold auditioned for the role, which led to her Broadway debut and brings her home for the musical's local run.
Penned by South Park creators Trey Parker and Matt Stone, The Book of Mormon follows the misadventures of mismatched missionaries sent halfway around the world to spread the gospel. Though praised for its iconoclasm, the musical is classic Broadway through and through, Herrold says. "It's one of those things where you hear a 'Ding!' and somebody bursts into song with jazz hands," she says. "It's a new, very satirical story about people who go off to change the world, and the world ends up changing them, but classical musical theater style-wise."
While some of her cast-mates spent months learning the show, Herrold's rehearsal has been a crash course. "The entire process has been a matter of weeks," she says. "I learned the show in New York over about four days, then flew out to L.A. and trailed the girl who's doing my character. It's intense."
But she says it helps that she'll feel at home in Silicon Valley, where she kicked off her singing and acting career at the age of 6 with the Children's Musical Theater of San Jose.
"I am so excited to come home, I cannot wait," Herrold says.
The Book of Mormon
Jul 11-23, 7:30pm $48+
San Jose Center for the Performing Arts