Arts
New Works Festival Brings
Audience Into Writer's Room
TheatreWorks live workshop connects theatergoers with playwrights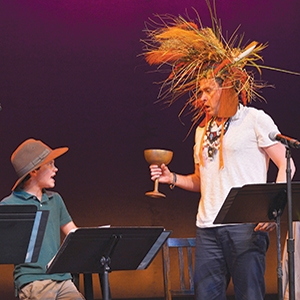 In the theater world, audiences are mostly limited to showing approval through cheering and bursts of applause. Theatergoers are rarely asked to participate in the artistic process themselves—especially not before a performance goes to production. But the New Works Festival was never meant to be an average theatergoing experience.
When the Palo Alto-based TheatreWorks launched the New Works Festival in 2002, the company's artistic director, Robert Kelley, didn't just want to bring unique performances to the Peninsula, he wanted to build an entirely new community of highly invested theater fans. The idea was to give audiences a first look at a handful of innovative plays and musicals, allowing them to rate scripts and give feedback to playwrights and directors during the earliest stages of production.
"I felt we had lost our commitment to new works and that it was time to revisit, revive and replenish our love for them," Kelley explains. "Not only did we rekindle the fire in the heart of TheatreWorks for new works, but we almost immediately began seeing the thrill that our audience took in discovering something entirely new for the first time in theatre."
The 15th annual New Works Festival, which runs Aug. 12-21, features three musicals, two plays and a special performance by a group of young performers from Stanford University. In addition to providing feedback on readings over the course of the fest, attendees will also take part in larger conversations on innovation in American theatre at the festival's culminating event—a Meet the Artists Panel, where participants, both on- and off-stage, interact and share ideas.
The two-week event includes Archduke, a new drama exploring the assassination of Franz Ferdinand, the spark that ignited World War I, written by Pulitzer Prize finalist Rajiv Joseph; I Enter the Valley, a romantic drama by rising playwright Dipika Guha based on the life of poet Pablo Neruda; The Four Immigrants, a musical that melds manga and comedy with a story of Japanese immigration at the turn of the century; Eddie The Marvelous, Who Will Save The World, a rock & roll musical about a boy who wants to save the world, but struggles with leaving his own house; Something Wicked This Way Comes, a chilling musical adaptation of the eponymous Ray Bradbury novel by Drama Desk nominees Neil Bartram and Brian Hill; and Gravity, a time traveling musical odyssey from Stanford University artists about a modern physicist heading back to 1666 to meet Sir Isaac Newton.
"What makes New Works exciting is that it explores what's being written right now by living authors, living in the same world we're in," says Giovanna Sardelli, the director of the New Works Festival and of Rajiv Joseph's Archduke. "It's exciting to witness what stories they choose to tell, and as a director it's important to always have pieces that are challenging and exciting."
Sardelli's role as festival director encompass both artist and audience satisfaction, from pairing directors who are "supportive but also challenging" with playwrights, to priming audiences to give feedback in a way that's clear to artists. The New Works development process provides a unique opportunity for emerging artists; they receive two full weeks of workshop time—including two public presentations—after which they receive notes on how they might improve their productions.
"If you've written a joke and the audience at large laughs, you can feel pretty good that you've done your job well," Sardelli says. "Conversely, if you think you've written something really funny and your audience leaves more confused than amused, you know you have work to do."
In past years, the New Works Festival has featured a number of productions that have gone on to gain recognition around the world: Both Emma and Fly By Night got their start at New Works, in addition to the Tony-winning Broadway musical Memphis.
Organizers hope that the fest continues to grow in popularity, and builds a legacy of giving back to the theatre community through expanded productions across the nation. But above all, giving audiences the chance to observe, imagine and enjoy the experience of theatre reigns supreme.
"I want audiences to be moved, and provoked to think about the world in ways they otherwise wouldn't have looked at," Sardelli says with a warm smile. "I hope they feel challenged, inspired, and excited. And entertained—let's make sure we're doing that."
New Works Festival
Aug 12-21, $10-$65
Lucie Stern Theatre, Palo Alto