Arts
The Curious Creativity of
Nina Katchadourian
Cantor Arts Center highlights the artist's active imagination in new exhibit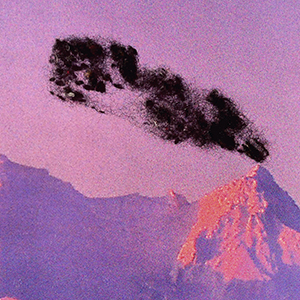 In the schematic imagination of Nina Katchadourian, the Brawny Man and the bald-pated Mr. Clean are a couple with recognizable but hard-to-place children—Little Miss Sunbeam and the Gerber Baby. A droll humorist, Katchadourian (born in 1968 at Stanford) unites them, along with many others, against a red gallery wall in The Genealogy of the Supermarket.
All of these fictional figureheads are associated with consumer products, from paper towels to polish to baked goods and baby food. Each "person", like Aunt Jemima or Uncle Ben, gets their own picture frame and is then connected by the lines of a zany family tree.
"Curiouser" at Cantor Arts Center gathers together several different series like this one from the artist's extant oeuvre. Katchadourian's dry wit is engaging. The overall impact of the exhibit erases the formal distance between the framed, mounted art and the viewing public. This is especially true when she is the subject of her own work. For example, the photographs in Lavatory Self-Portraits in the Flemish Style draw the viewer in closer because you want in on the joke.
Katchadourian writes that the genesis of these self-portraits began for her on long airplane flights. She would retreat into the lavatory and shape the paper products there into clothing accessories as seen in 16th and 17th century Flemish paintings. There are spectacularly bibbed collars and architecturally arranged hats like Sister Bertrille's from the Sally Field TV series The Flying Nun.
It's easy to compare these with Cindy Sherman's composed selfies. But Katchadourian doesn't reveal herself through a character the way that Sherman does. Regardless of her profile or attitude, she maintains an ironic charm. Her charisma is that of a performance artist's, not of an actress disappearing into a role. The Flemish photographs also don't provide the same narrative ambition. Backgrounds are nonexistent and almost completely cut to the frame's edges. And yet given these caveats, each photograph displays her appealing, limitless imagination.
Of course, she pushes the idea further in the associated Lavatory Videos. For this series, Katchadourian films herself lip-syncing to different songs. Each video comes with a pair of headphones. In the case of the triptych In a Room Full of Strangers, she appears in three separate frames, in three different Flemish outfits, mouthing the lyrics and background vocal harmonies while the Bee Gees sing. Katchadourian holds her steady, classical pose even though her lips are expressing a disco beat. She's applying a retroactive karaoke to the 17th century—and we get to sing along and join in the fun of temporal displacement.
Katchadourian also features herself in two other video installations. Accent Elimination focuses on her mixed Armenian and Finnish heritage. To explain the piece she writes, "My foreign-born parents both have distinctive but hard-to-place accents that I have never been able to imitate correctly." Before we consider the next step she takes, this sentence alone informs us as much about the artist's practice as it does her own sense of humor. You can picture a young Katchadourian practicing her parents' accents and sounding like a "cartoonish Russian spy." As an adult, she hires a professional accent coach for her and her family, filming the carefully scripted process of speaking in one another's tongues. You move around several TV screens to watch them parse together what it means to be a multicultural family in America.
On the way past a popcorn machine that creates Morse code and some photographs of mended spider webs, The Recarcassing Ceremony plays on a large video screen at the back of the exhibit. As children, Katchadourian and her brother Kai "played an elaborate game" at the beach with Playmobil figures. While a speeded-up version of the ABBA song "SOS" whines on the soundtrack, a toy boat is swept under the waves. In this reenactment from her youth, we learn that two of the small figures aboard got lost in the water. Her father tells us, sounding concerned, that she took this particular game very seriously.
"Nina Katchadourian: Curiouser" is filled with dozens of elaborate games that the artist takes just as seriously. What's compelling about her work is that even as a mature adult, with a meticulous sense of organization, Katchadourian still retains her sense of play.
Nina Katchadourian: Curiouser
Thru Jan 7, Free
Cantor Arts Center, Stanford
museum.stanford.edu