Arts
Stanford Rep. Theater Hosts Revue
of Noel Coward's Greatest Hits
As part of its 'Noel Coward Festival,' Stanford Repertory Theater
is staging a revue of the British playwright's best known numbers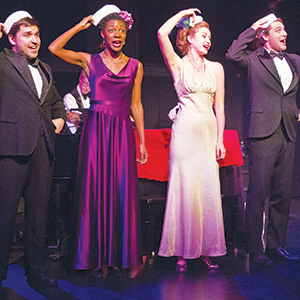 The British writer, composer and all-around renaissance man, Noel Coward, was a master of witty wordplay, lilting melodies and the perfectly pointed zinger—often directed at his own upper-class English society. Stanford Repertory Theater is celebrating his work this season with its Noel Coward Festival: Art, Style & Decadence.
Earlier this summer, the company presented his 1924 comedy-of-manners, Hay Fever, as well as a film series, community symposium and theater course. In addition to his work as a playwright, Coward was also a successful and prolific songwriter, and Stanford Repertory Theater is now celebrating this side of him with Cowardy Custard, a cabaret-style musical review, currently playing at the university's intimate Nitery Theater. The show gives audiences the chance to enjoy some of Coward's most delectable tunes, live and up close.
For this production, the small theater has been fetchingly decorated as a jazz-age nightclub, complete with candlelit tables, hanging lamps and complimentary beverages (fancy bottled water rather than champagne cocktails). A marvelous musical trio featuring musical director Makulumy Alexander-Hills on piano, Wyatt Smitherman on violin and Christopher Davis on upright bass, provides the orchestration, and is set in the middle of the room, adding to the speakeasy atmosphere. The musicians are crucial to the show, and they do a great job, with Smitherman's violin an especially pleasing element.
Decked out in glamorously retro gowns and suits, the cast consists of Andre Amarotico (a standout in the aforementioned Hay Fever production), Dante Belletti, Samantha Rose Williams and Ellen Woods. The cast members are strong vocalists, though Williams' style sometimes comes across as a bit too classical and formal in her solo numbers. In order to construct a semblance of a plot, the foursome break the fourth wall and address the audience often, enact arguments over Coward's merits, sprinkle in facts about his work between songs, and develop a sort of love quadrangle. There's no stage to speak of—rather the cast members meander through the audience and sing from various points in the room. And be warned: shy folks may want to sit in the back.
The information on Coward is welcome, though the skit-like bits aren't necessary and sometimes pretty cheesy. It's really all about those songs. Coward's canon is full of gems of varied sorts: swoon-worthy love songs ("A Room with a View"), hilariously barbed socio-political satire ("Don't Let's Be Beastly to the Germans"), stirring anthems ("London Pride"), and marvelously silly fluff ("Nina"). He had a way with intricate and ingenious rhymes, with delicious lines woven throughout the lyrics. Listeners are advised to pay close intention, as they also go by quickly. "The Stately Homes of England," ridiculing the British gentry, has some of the best quips. For example: "The stately homes of England we proudly represent/We only keep them up for Americans to rent."
"Mad Dogs and Englishman" is probably Coward's most famous number, a jaunty show tune poking fun at the habits of British colonialists in exotic locales. The SRT cast takes pains to point out that the song isn't considered politically correct today, and tweaks some of the more questionable lines.
In terms of "serious" songs, Coward's masterpiece is "London Pride," the beautiful, tear-jerking ode to his hometown. Coward, the cast explains, wrote the song in 1941, after watching plucky Londoners going about their lives in the face of the devastation of the Blitz. With a tune based on a traditional folk melody and lyrics commemorating a common flower that blooms in bombsites, Coward created an enduring and spirit-raising rallying cry for his people. The SRT cast delivers a heartfelt version, complete with Union Jacks, and I doubt there was a dry eye in the house. I'd have saved it for the grand finale, however, as it's a hard act to follow.
One flaw in the production is that the set list is front-loaded with several of the greatest hits, ending with a series of down-tempo songs that, while lovely, make the show lose momentum. And Coward wrote so many great songs that so brief a show (70 minutes) means some favorites will be left out. On the whole, though, SRT's Cowardy Custard is, to quote the man himself, "a marvelous party"—a charming tribute to one of the greats.
Cowardy Custard
Thru Aug. 23, $15-$25
Nitery Theater, Stanford