Arts
Northside Theatre Company
Comes Home
Officials with the arts organization say they should be back for 'A Christmas Carol'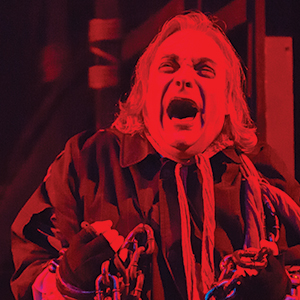 If you think you've had a bad year, San Jose's Northside Theatre Company has you beat.
When the Anderson Reservoir spilled over this past winter, many San Jose neighborhoods found themselves at the mercy of the elements.
After two weeks of heavy rain in late February, waters in Coyote Creek reached a critical level, and entire San Jose neighborhoods were flooded. All told, more than 14,000 residents were forced to evacuate their homes in a disaster that cost nearly $100 million in damage.
One of the victims was the Olinder Community Center, home to the Northside Theatre Company since 1980. Like most theater companies, Northside started its year planning a season's worth of performances, capped by its annual holiday production of "A Christmas Carol"—something it has put on annually since opening.
But with flood damage to the community center, Northside Theatre Company had to move some shows, and cancel the rest of its season. Its only hope was to get back into business in time for "A Christmas Carol."
San Jose's Parks, Recreation and Neighborhood Services was in charge of cleanup and recovery. On April 17, Northside was told the theater could reopen on June 30, which would have even given it time for a fall season opener.
"The first estimation was several weeks. But as [Parks and Rec] looked into it further, it looked like it was going to take longer and longer periods of time", says the theater's artistic director, Meredith King. Although the theater passed an abatement test in late May, the damage from the flood was greater than previously expected—calling into question the date set by Parks & Rec in April.
Another obstacle was the involvement of the Federal Emergency Management Agency (FEMA), which has criteria for local governments to comply with in order to recoup monetary losses in event of disaster and subsequent cleanup.
"The first I heard that FEMA was involved was at a meeting that happened on June 13," says King about the next delay. King was informed that the original date was a mistake, and realistically it would take 18-24 weeks for full repairs, meaning Northside wouldn't be back in time to stage its longest-running show.
"We were told June 30. We made plans based on those dates, and then that turned out not to be true", King says, chuckling ruefully. "It was, as you can imagine, startling to find that out."
Two weeks later, when all hope seemed to be lost, the city changed its tune again, telling King that, in fact, the theatre company would be able to open on Sept. 30. That would leave enough time to put on "A Christmas Carol." In order to make sure that deadline was met, the city's Public Works Department joined Parks and Rec in the effort. It should also be noted during that period, fans of the company took to social media to voice their complaints. Either way, this was the most confident King felt during the whole process. So, for now, "A Christmas Carol"—and thus, Northside's key source of revenue—is back on the calendar.
As a private business, the Northside Theatre Company has been entangled in red tape. Coordinating between private, local and federal agencies can be a topsy-turvy mess, especially during recovery from the largest flood for San Jose in more than a century. Moreover, the process for responding to a disaster of this magnitude requires complex maneuvers from the city that often take time.
"To rebuild the Northside Theatre, we have to make sure we follow the proper process in order to be reimbursed by the federal government," says Matt Cano, assistant director of parks, neighborhood and recreational services. The flood marked the first time the city has worked with FEMA on a such a massive scale. And It wasn't until last weekend that the city got final advice on how to move forward.
"The Northside Theatre has been at the top of our list for some time," Cano continues, adding, "There is just a lot of work to recover from the flood. Dealing with a lot of projects, as well as FEMA, takes time, and it's complicated."
Call it a bit of good timing, but it looks like the latest announcement will be final. The Northside Theatre Company will re-open Sept. 30.
"I'm cautiously optimistic," says King about the newest and firmest date. "I think it's going to work out. I really won't be relaxed until I walk into the building again. But at least I know the city is working on it."
A Christmas Carol
Dec 6-24, $22
Northside Theatre Company, San Jose
northsidetheatre.com