Arts
A 'Nutcracker' For Everyone
There is quite a bit of variety in this year's productions of the classic holiday ballet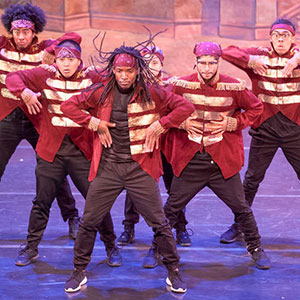 It's a tradition as enduring as egg-nog and roast turkey. The Nutcracker, Pyotr Ilyich Tchaikovsky's century-old ballet about a little girl, an enchanted wooden doll and an anthropomorphic mouse, is a performing arts staple of the holiday season. This year, Silicon Valley has at least three different takes on the Christmas classic.
The Nutcracker Center for the Performing Arts, San Jose
Veteran conductor George Daugherty leads Symphony Silicon Valley as his orchestra accompanies a group of world-renowned Russian dancers to bring Tchaikovsky holiday fever dream to life. Russia has long been recognized as a leader in the world of ballet and the Stars of Moscow Ballet Company is no exception. This dextrous troupe of dancers have some of the most delicate moves in the business. Of the three Nutcracker's listed here, expect this version to be the most straightforward, without too many twists on the Mouse King or Sugar Plum Fairies. Fri-Sun, Dec. 15-24 & Wed, Dec. 20.
Hip-Hop Nutcracker Fox Theatre, Redwood City
This adaptation of The Nutcracker adds some b-boy flair to the traditional 125-year-old ballet routine with a pop-locking sugar plum fairy, krumping tough toy soldiers and bumping beats. Choreographers Ale Martinez and Isaac "Stuck" Sanders, whose dancing has appeared on America's Got Talent and Fake Off, mix dancers trained in hip-hop with performers from the Peninsula Ballet Theatre. Tchaikovsky's iconic score is remixed with thumping bass and record scratchihng and the plot strays slightly from the original Nutcracker—as it has the protagonist Maria-Clara's parents meet at a nightclub in Brooklyn in the 1970s. Fri, Dec. 15 & Sun, Dec. 17.
The San Jose Nutcracker Hammer Theatre Center, San Jose
The New Ballet School is bringing back its production of The San Jose Nutcracker, which puts a South Bay spin on the world's most popular ballet. The fledgling ballet company found success with the production last year, selling out its run of shows. This year, the young ballet company is upping the ante, bringing two dancers—Odwa Makanda and Lwando Dutyulwa—from the Langa township in Cape Town, South Africa to perform in the show. Referencing iconic San Jose landmarks, like the city's legendary light tower, and recalling a time when the city was known not as "The Capital of Silicon Valley," but rather "The Valley of Heart's Delight." Fri-Sun, Dec. 15-24.