Arts
Former SV Ballet
Dancer Takes a Crack at 'The Nutcracker'
In crafting her rendition of 'The Nutcracker,' choreographer Karen Gabay
takes a deeper dive into the fantastical children's story that inspired the ballet.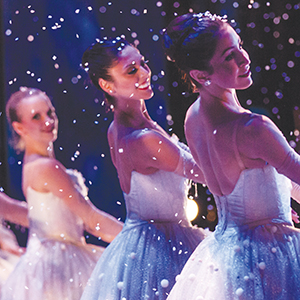 Karen Gabay was eight years old when she first saw The Nutcracker. Correction: Gabay was eight years old when she first appeared in a production of The Nutcracker.
It was that formative experience—of being in a production rather than simply watching a performance—that inspired her current role in Silicon Valley Ballet's newest iteration of Tchaikovsky's holiday ballet: she's the choreographer.
Until 2013, Gabay had been a beloved principal dancer with SVB (formerly Ballet San Jose) for decades. That's when she made the transition from dancer on center stage to the ballet company's artistic associate, working behind the scenes. In this year's production of The Nutcracker, the audience can still delight in Gabay's artistry, in her concept and choreography, if not her jetés. But this isn't the first time Gabay has stepped out of her ballerina's shoes.
"I choreographed as a kid," Gabay says of her early dabbling in constructing dance routines. "I would play and tinker around with things. It was always an opportunity for me to be creative. I liked that aspect, aside from being a dancer and interpreting roles. Musicals inspired me so it was fun to create things."
Gabay also co-founded a dance company in 2001—Pointe of Departure, which provides her with an opportunity to choreograph in SVB's offseason. But what inspired Gabay in her approach to the Tchaikovsky ballet? The Nutcracker is ubiquitous at this time of year, mounted in professional and amateur productions alike. What makes her version unique? Having danced the role of Clara, it's this particular choreographer's experience of working from the inside out.
"As a dancer people asked me, 'How did the Nutcracker become a prince? How did that happen?' I felt that was an important part of the story to tell, the story within a story," she says, recalling the question she fielded again and again when performing in the Christmastime classic.
In order to answer that question, Gabay revisited The Nutcracker and the Mouse King, the fantastical 1816 story by Prussian writer E.T.A. Hoffman, from which the ballet's libretto was adapted.
"There is a boy who could crack the hard nut," the choreographer says, briefly describing the origins of the mystical nutcracker character—a quintessentially Eastern European children's story involving a seven-headed mouse king and his army, a magical clockmaker and a strange curse, which could only be broken by cracking an extremely hard nut. "He was an actual person before he turned into the Nutcracker, and then became human again. That was the back story I thought the audience would like to know."
Gabay choreographed a production of The Nutcracker back in 2012 for SVB as well. However, this year's concept and storyline is her own—not the previous artistic director's. While the 2012 set and costume designs by David Guthrie are still in use, Gabay also hired Victoria Mearini to create new costumes for the additional parts.
"I've had to take my concept and try to reimagine it now on a different production," she says.
It's clear that Gabay has earned the hard-won pride she takes in her artistic life and craft. From the 8-year-old running out from under Mother Ginger's skirts, to the principal dancer inhabiting the lead role, to the choreographer animating the dance: this rejuvenated Nutcracker has been incubating in her imagination for years.
The Nutcracker
Dec 12-27, 1:30pm & 7pm, $25-$110
San Jose Center for the Performing Arts