Arts
Review: Cavalia's 'Odysseo'
Combination of high-flying circus acts, live horses, trick riding wows San Jose crowd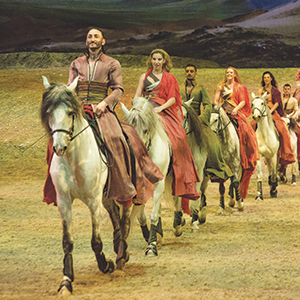 For milennia, humans and horses have shared a special bond. A new production from the Quebec-based Cavalia aims to tell story of mankind's long and complex relationship to these majestic creatures.
Odysseo, the touring program from the Canadian equestrian and acrobatic performance troupe, premiered in 2011 and this week made its debut in San Jose.
The $30 million production is bigger than its previous entertainment, with over 100 tour buses, 65 horses and 48 performers, including riders, acrobats and musicians. Artistic director and creator Normand Latourelle says Odysseo is a show unlike any other.
"I think it's the best show that people can witness, ever," Latourelle says.
The man has a point. Latourelle, who helped Cirque Du Soleil get up and running in its early years, came up with the concept to combine high-flying acrobatics with equestrian performance, founding the company in 2003. This majestic merger has paid off in spades for Latourelle. It turns out combining the splendor of galloping horses, awe-inspiring acts of trick riding, amazing acrobatics and a talented musical ensemble all add up to one hell of a show.
And that's not even mentioning the 40,000 gallons of water used to create a false lake beneath Odysseo's traveling big-top tent. After intermission, and an inspiring musical number, unseen pumps flood the theatre's dirt floor—setting the stage for a wet and wild display.
In addition to the equestrian stars and their talented riders—who performed numerous impressive stunts and death-defying acts in the saddle—the show was made ever more exciting by a collective of talented gymnasts, who kept the crowd gasping and clapping in between the acts of horsemanship.
The group stacked itself into human pyramids, led the audience in a massive drum circle chant and wowed with their flips and handspring maneuvers.
The company's first production, Cavalia: A Magical Encounter Between Human and Horse has been touring since then, playing to more than 40 million spectators.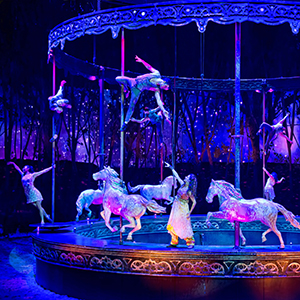 It took Latourelle and his team eight years to create Odysseo. With the help of HD projections on a screen three times larger than a standard cinema screen, Odysseo manages to take viewers on a journey where human and horse travel together through lush forests and beautiful landscapes, all under what Latourelle says is the largest big-top tent in the world.
"We project images that are so high definition, you get a feeling that it's for real," Latourelle says.
It's true. There were a few moments, that even when it felt as if the entire tent was rotating or zooming up into the sky.
The stars of the show are the horses, and like human stars, they sometimes like to improvise. Elise Verdoncq, a rider for Cavalia, works with up to 10 horses at a time, leading them with only her voice. "Sometimes it happens, a horse wants to play and have fun," she says, referring to the horses getting distracted.
Watching the show, this was quite clear. If watching the performers of Cirque Du Soleil can cause one to recoil in fear of a seriously injurious accident, that feeling is multiplied exponentially when live horses are involved—and it's not just a fear for the performers. There are moments when the horses are travelling at a fast clip, straight at the audience. Sitting in the center section, just a few rows back from the front, I could feel the power of these once-wild animals as I looked into their dark, undoubtedly sentient eyes.
"There is no way to react, you just let the horse be a horse," explains of dealing with an improvising stallion, gelding or mare. In the end she says, this playful interaction is what people enjoy the most. Every horse has their own name, and when Verdoncq feels they are ready to return to their position, she simply calls them back. This bond between her and the horses makes for some amazing performances.
Arts & Entertainment Editor, Nick Veronin, contributed to this review.
Odysseo
Thru Oct 2, $30+
399 W. Julian St., San Jose