Arts
Review: 'Once' at the San Jose Center for the Performing Arts
Based on the Oscar-winning film of the same name, 'Once' the musical tells the story of two musicians falling in love.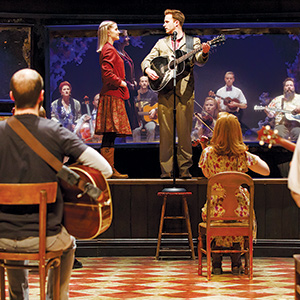 The bittersweet Irish musical Once has, despite its title, charmed audiences in at least two incarnations so far—as an Oscar-winning film, then as a Tony-winning Broadway production. Local fans will get a chance to see the stage version when the national touring company takes up residence in San Jose next week.
Once tells the tale of a Dublin busker (Guy) on the verge of giving up his musical ambitions until he meets Girl, a single mother and Czech immigrant who connects with his heartfelt songs. She's a songwriter as well, and soon they're working as a team, making beautiful music together while finding they may have more than just professional chemistry.
"It's a great date night show, a really romantic idea," says Sunnyvale native Tina Stafford, who plays the mother of Girl.
The wistful, haunting soundtrack, by folk-rock artists Glen Hansard and Marketa Irglova, who also starred in the film, is retained in the stage production and, in keeping with the indie-band spirit of the story, the actors all accompany themselves with musical instruments rather than relying on an orchestra.
Stafford says the style of Once is a unique theatrical experience. "It's not like any other musical you'll ever see. We all play the instruments in the show—violins, cellos, accordions, fiddles—and we're all on stage the whole time, it's very unusual in that way."
As a fan of the film, Stafford says she was surprised at how well it translated to the stage, with much expansion on the stories of characters who just briefly appear on screen, including her own. "The script is simple. The characters are complex," she says. "It's on the actors to bring life to the story."
She says the themes at the heart of the play make it universally appealing. "It's a story of hope and love, and the premise, I think, gives us all a chance to remember that we have dreams and they might still be possible."
For Stafford, performing in at the San Jose Center for the Performing Arts is a childhood dream come true. Though she's resided in New York for 20 years, she still considers Sunnyvale home, and will have many friends and family members in attendance during Once's local run. In her years as an actor, this is the first time a tour has taken her home to the South Bay.
"To be where I always dreamed of performing as a kid—this is a thrill," she says. "It's going to be a wonderful week."
San Jose Center for the Performing Arts
Apr 21-26, $50-$130