Arts
Other Desert Cities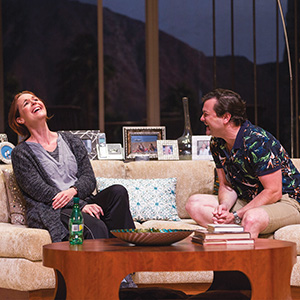 Local theater patrons are in for something special with the regional premiere of Jon Robin Baitz's Other Desert Cities, an intelligent, poignant and surprisingly funny play about a family torn apart by old wounds and divergent politics. Much of the cast and crew, including star Kandis Chappell and director Richard Seer, and even Alexander Dodge's evocative mid-century modernist set, have been transferred to TheatreWorks from the Old Globe production in San Diego last spring.
Polly and Lyman Wyeth, played splendidly by Chappell and James Sutorius, are a pair of staunchly Republican, semi-forgotten Hollywood royals spending their retirement in Palm Springs. It is Christmas, and their liberal daughter Brooke (Kate Turnbull) is visiting for the first time in years. While there is some tension surrounding their differing views, Brooke has yet to drop the real bomb: a memoir dealing with her troubled older brother, who decades earlier rebelled against his parents' conservatism, fell in with the wrong crowd and eventually committed suicide.
These are memories that Polly and Lyman would rather not revisit, and the manuscript touches off a full-scale war. Julia Brothers is irresistible as bitter, wisecracking Aunt Silda, a burnt-out lush who still manages to cough out some good one-liners and who takes Brooke's side in the conflict. Rod Brogan, meanwhile, is plaintively moderate as younger brother Trip, who attempts to keep a foot in each camp.
Polly and Lyman, resembling a second-tier Nancy and Ronald Reagan, could so easily have been reduced to caricatures, but Chappell and Sutorius deliver something else. Lyman is a damaged man hidden beneath the warmth and charm of an old-school film actor, and Chappell's Polly, though hardly lovable, is superbly engaging in her caustic wit.
The embattled Wyeths are in many ways reminiscent of that fractured clan from the Tracy Letts drama August: Osage County, but playwright Baitz (whose other credits include the TV series Brothers & Sisters) brings a political context to the table. Family as nation, with conflict between liberal and conservative members representing a wider civic divide, may be a familiar metaphor, but Other Desert Cities is well-written and well-acted enough that it never descends into predictable stereotypes.
Other Desert Cities
Thru Sep. 15
Mountain View Center for the Performing Arts
$19-$73