Arts
Pear Theatre's 'Slices' Festival
Back For 13th Year
Now twice as large, the one-act series boasts 14 plays by local playwrights.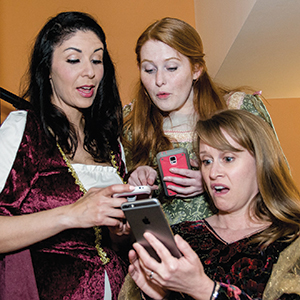 Mountain View's Pear Theatre is continuing its long-running festival of one-acts written by local playwrights.
This year, the 'Pear Slices' festival has doubled in size, requiring the company to split the showcase into two separate programs of seven plays each— 'Anjou Pears' and 'Bosc Slices'—to play on alternating nights. One begins to suspect that seven is an auspicious number for this theater company, when learning that a total of seven actors fill all of the roles in the 14 plays directed by Robyn Ginsburg Braverman and Troy Johnson.
The Pear's mission statement promises 'wonders on a shoestring.' However, the set—which changes from play to play, with chairs and tables brought in and out to suit the purposes of the narrative—is regrettably barren. And not in a way that suggests minimalism birthed out of necessity. Rather, it reads as an oversight as to how much just a few more well-chosen props could have enriched and enlivened the space inhabited by the characters.
In any case, before delving into the meat of the plays, let us first consider the pears. For those with curious palates, Bosc pears are crisper and denser than the Anjou, which has a softer skin. Both varieties have a reputation for being sweet.
Having not seen the "Bosc Slices" slate, I can neither confirm nor deny whether the nuanced differences in taste and texture of these two types of pears are meant to signify something about the set of plays grouped under their appellation. My guess is that the joy one experiences of biting into a ripe pear—no matter its variety—and the sweetness to be found from first bite to last is what is meant to be invoked. One strictly dramatic play notwithstanding, the 'Anjou' one-acts attempt to create an atmosphere of light-hearted comedy and sweetness (some far more successfully than others).
Invariably, in a portmanteau type production, where various, self-contained works are asked to stand shoulder to shoulder against one another, some will prove to be duds, most will be inoffensively mediocre and, if we're truly lucky, one or two will rise above the rest and give us something to think about or delight in.
Birders written by Barbara Anderson (who is also responsible for the opening piece The Telecommuter) and Alternative Text-Send by Douglas Rees are two pieces that merit being lauded above the rest. It should be noted that the success of both plays is due in no small part to Royal Academy of Dramatic Acting-trained actor Ray Renati, who displays a knack for deadpan in Birders and a cheeky pompousness-turned comic aggravation as none other than William Shakespeare in Alternative Text-Send.
Birders features Stephanie Crowley and Ray Renati as two avid birdwatchers who are hoping to catch a glimpse of a most rare bird. Their conversation reveals them to be utterly alone in life, their respective strings of significant others having grown weary of their bird obsession. What gives this comedic one-act a depth is that it is quite likely that these two people would make a perfect pair if only they were to tear themselves from their binoculars long enough to catch and hold each other's gaze. The binoculars simultaneously bring close that which is far away (providing a false sense of connection), while also impeding their ability to see what's right in front of them (thereby blocking them for any actual real connection). This is a tragedy dressed as a comedy about a missed connection.
Alternative Text-Send pokes fun at both Shakespeare's misogyny (like the fact that he couldn't even be bothered to give Lady Macbeth a first name) and the inability for an artist to have control over his or her creations in the age of the meme and the reboot—where nothing is sacred and texts are constantly being re-appropriated and interpreted.
Juliet (Nicole Martin), Desdemona (April Culver), and Lady Macbeth (Kristin Walter) find themselves in a sort of purgatory for literary characters. Through the aid of cell phones, they conjure up an indignant William Shakespeare, demanding that he rewrite his plays (as Lady Macbeth says: "Face it, Willy, you couldn't plot for shit") so that they do not have to face an eternity of reliving the tragic fates wrought upon them by their stupid, jealous and short-sighted male literary counterparts. As the closing play of the night, Alternative Text-Send is fortunately also the most consistently droll and witty.
Pear Slices
Thru May 29, 2pm & 8pm, $35
Pear Theatre, Mountain View