Arts
Poet Peter Balakian at SJSU
Writer looks to the past to inform his poetry and nonfiction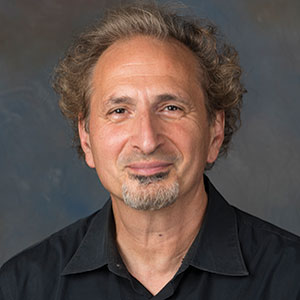 As a young Armenian-American living in post-war New Jersey, Peter Balakian's only exposure the "old country" was through the memories and folk tales his grandmother—a survivor of the 1915 Armenian genocide—passed on.
Her remembrances made an impression on Balakian, who has drawn on his ancestral history to build a successful career writing prose and poetry.
In Black Dog of Fate, a memoir that earned him a PEN/Albrand Award for nonfiction, Balakian touches on his relationship with his grandmother and how trauma is felt across generations:
"When I was with my grandmother I had access to some other world, some evocative place of dark and light, some kind of energy that ran like an invisible force from this old country called Armenia to my new world in New Jersey. It was something ancient, something connected to earth and words and blood and sky.... Now I realize that my grandmother's stories hibernated in me until I was ready to understand them fully."
During an interview on PBS about his work in 2016, he said he wrote the book "to try to make sense of growing up in a family where a traumatic history was really repressed, it wasn't spoken about. It was silenced." He was able to take "those fragments and encoded messages of a traumatic history" and turn them into a kind of coming of age story where connections are made between the his American life and his family's history.
His Pulitzer Prize-winning book of poetry, Ozone Journal, is a 54-section poem that makes some of these same connections between his approach to the Armenian genocide and his own challenges as an adult. Part of the poem is based on a trip to Der Zor he made with 60 Minutes in 2009. Balakian notes that the site is considered to be the "Auschwitz of the Armenian genocide," where thousands of Armenian refugees marched to their deaths.
He believes that "a poet's deepest attachment is to the image, sensory and sensual image," and this is seen in the way the speaker of his poem utilizes a kind "tableaux freezing" of his environment. These experiences force the speaker to "[dream] back to the strangeness of his life in the 1980s, in Manhattan, when he was juggling a lot of complex life challenges."
On April 12, Balakian will be reading from Black Dog of Fate and Ozone Journal, followed by by a conversation with San Jose State University President Mary Papazian at the Hammer Theatre downtown. The event is hosted by The Center for Literary Arts, and will be in conjunction with the university's Legacy of Poetry Day, when students and faculty will gather for readings and other festivities.
Peter Balakian
Apr 12, 7pm, $20+
Hammer Theatre Center, San Jose
litart.org/peter-balakian