Arts
Amine Ragstar Burns Down 'Babylon'
Seeing Things Gallery hosts 'Present Day Babylon' exhibit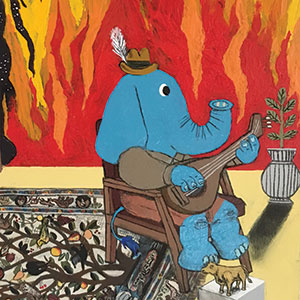 Amine Rastgar isn't heavy into politics. But in some ways, it feels as if current affairs are aligning quite well with the themes, and especially the title, of his upcoming solo art show, "Present Day Babylon."
"A lot of the imagery has to do with fire and idolatry and people fighting over nothing, which is kind of what you see happening now," San Jose native Rastgar says. "So I'm telling my own story through that phrase. 'Present Day Babylon' speaks to my past, present and future."
Opening on Feb. 17 at Seeing Things Gallery and running through mid-March, Rastgar's collection reflects his unconventional path into the art realm and the experiences that helped bring him there. As the "token kid who was always drawing in class," his interest in art began at age 3 and never stopped.
Rastgar became heavily involved in graffiti in high school, and soon after moved to Los Angeles to pursue graphic design. By way of designing sets for TV commercials, he landed a job as a display artist for Urban Outfitters before ultimately switching to animation as a career. But despite his vast and varied resume, the constant throughout his career has been his willingness to share his art without hesitation.
"Whether it was animation or drawing or painting, I have always shown my work and was never afraid to show it," he says. "It's about just doing it and being good enough in your mind that you're not just letting your mom see it—the world needs to see it if you're creating."
Rastgar's installation and collection of paintings and drawings for "Babylon" pull from this natural confidence and play with the serious themes of life and death in a humorous, tongue-in-cheek manner. Juxtaposing the absurd with the ordinary and dark humor with lighthearted, cartoony subjects, Rastgar manages to capture the madness of modern day life in a way that is accessible and playful while managing to shed light on darker issues, like the death of his good friend who is memorialized in his installation.
"Something I learned in my early years of art was that you have to have a narrative behind your work because storytelling is the key component to human civilization," Rastgar explains. "If you can resonate with that aspect of humanity, you have a place in someone's heart. I want to resonate with people, and I want my work to be impactful and playful, yet serious."
'Present Day Babylon'
Feb 17-Mar 17
Seeing Things Gallery, San Jose
seeingthingsgallery.com