Arts
Stage Review: 'Proof'
In 'Proof,' Catherine (Michelle Beck) is a woman struggling to find legitimacy
in the male-dominated field of high-level mathematics.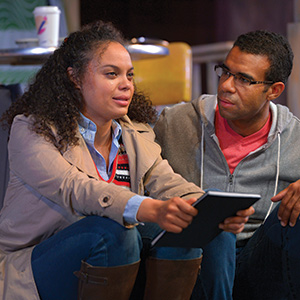 Math equations elegantly link disparate parts of our existence. TheatreWorks Silicon Valley does the same with Proof by tracking the depression and genius of a math prodigy. Catherine (Michelle Beck) considers her next move after years of caring for her once brilliant, then delusional, father while tackling doubts due to her gender, lack of college degree and inherited potential for mental instability.
"I like the way David Auburn (the Tony/Pulitzer-winning play's writer) lets the cultural bias, the sexism, sneak up on you," says director Leslie Martinson. "At first, it's the fact she doesn't have a degree that is the sticking point, but that's not how discrimination works. Everything on the surface is not the full situation. Other characters can't believe that a young, self-educated black woman could have done this. And I find that super powerful."
On a weathered back porch in Chicago, in the days before and after the funeral, Catherine clashes with her father's drum-playing, posture-perfect protege, Hal (Lance Gardner), and her secure, successful older sister, Claire (Ashley Bryant); in flashbacks, she grapples with memories of her doddering, yet supportive dad (L. Peter Callender) as he slips in and out of lucidity.
Beck humanizes Catherine's frequent cutting outbursts by cracking her hard shell with genuine giggles and distant glances that reveal competing emotions. "The play is always from Catherine's perspective," Martinson says. "We line up with her even when see her behaving badly. We have started from her point-of-view. Many lighting and scenic choices were made to stay in the bubble of her anxiety. Michelle has that balance. She's tough and stubborn and even annoying, but completely engaging and charismatic. You root for her. You feel for her."
The taut, smart dialogue of the play tightens tensions before releasing them with poignant wit and perceptive humor. The production's choices flout expectations. Not only do math "nerds" show off their wild side, but the all-black cast shows that our commonly-held conceptions about who can do this kind of academic work are misguided. Through confident example, Proof redefines what we can expect from our world and ourselves.
"You can make change because you imagined it out of thin air. You can also make change when you see something and say, 'I can do that.'" says Martinson. "It's something like teenage girls seeing female secretaries of state and then a TV show, Madame Secretary. These positions then become reasonable options."
Proof
Thru Nov 1, $19-$80