Arts
RAW San Jose presents PIXELS
PIXELS kicks off a year of bimonthly artist showcases in San Jose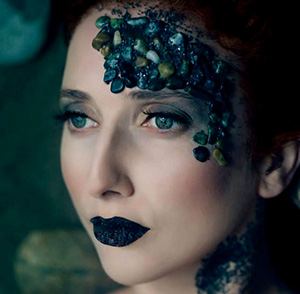 RAW San Jose's PIXELS showcase draws artists from many different disciplines, whether it's a burlesque-hula hoop tag-team performance, visual artists, fashion designers—or a brand new band. PIXELS kicks off a year of bimonthly artist showcases in San Jose.
PIXELS paired up burlesque dancer Mercy Beaucoup and hula-hooper Sarah Ann Howe for their unusual set.
"We try to create a network of the entire creative community," says RAW Showcase director Laurel Erilane, "and here's a perfect example of artists who hadn't really met each other, but had this opportunity for them to expand on their stage time, show their own material in a new way that ended up working out for them to work together."
RAW is an international independent organization that focuses on promoting emerging artists in the first decade of their careers.
The PIXELS showcase will include not only performing artists, but a full set with a DJ, live music by the new band Column of Air, a film screening and a fashion show with a pop-up art gallery.
"We work with different types of artists like visual artists, photography, hair and makeup, fashion and accessories, film, performing art and music," says Erilane. A fashion show, will highlight local designers, as well as hair and makeup artists.
San Francisco's Heklina will appear at a Q&A with director Brian Favorite and editor Cielo Lima following the screening of the documentary Heklina, which follows her career as an alternative drag artist.
New band Column of Air, based out of San Jose, will have their second live performance. Visual artist Andre Hart, originally approached to have an art space, opted for a musical presence instead. Hart teamed up with David Sosa and Mitch Waldman to form the band, which draws on influences as diverse as Iggy Pop and MGMT.
Even the still art can't manage to stay still. Artists David Mejia and Stefanie Sylvester will bring the crowd into their art, drawing and painting people at the event.
Motif's top balcony, usually the VIP lounge, will host a pop-up gallery of artists and designers.
"People can really interact and intermingle to start those conversations where you're really up close and personal with the artist," Erilane says.
RAW San Jose presents PIXELS
Jan 29, 8 pm