Arts
Review: 'Fun Home'
TheatreWorks production is thoughtful, entertaining, though many questions go unanswered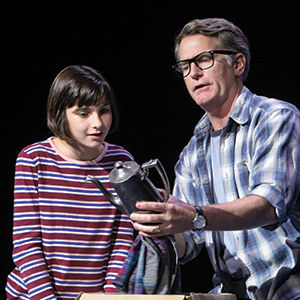 The spotlight shines on a woman standing alone at her desk. Alison (Moira Stone) introduces herself to us from the middle of an empty stage. She's a cartoonist in search of the perfect caption to describe her childhood.
One of her panels appears on a projection screen behind her. In it, her father holds her younger self aloft on his knees. She extends her arms out wide to mimic the wings of an airplane. This and other rare moments of father-daughter connection punctuate Fun Home, the musical adaptation of Alison Bechdel's graphic novel.
Fun Home—short for the funeral home her father Bruce (James Lloyd Reynolds) runs—is an autobiography containing two coming-out stories. We immediately learn that Bruce's is tragic. He was a gay man who darted in and out of the closet until he committed suicide. Alison's is tragicomic. Only a few months before her father dies, it dawns on her that she's a lesbian. During the scenes that take place before his death, the musical expresses Alison's wry take on life. She was a bookish tomboy, preferring jeans and sneakers to dresses. Her sense of humor, though, is tempered by the sweet and often justifiably sentimental exploration of Alison's grief.
She's too sad to look back in anger. Alison puzzles through the strange and secretive aspects of her family life by summoning younger aspects of herself to the stage. There's Small Alison (Lila Gold), a pre-adolescent, and Medium Alison (Erin Kommor), who is college-age. In her later adult incarnation, she's the ringmaster of her own memory, shaping each scene on stage and in the pages of her book. By drawing parallels between her story and Bruce's, Alison investigates longstanding questions but rarely finds satisfactory answers.
Helen (Crissy Guerrero), her mother, was cognizant of her husband's homosexuality but stayed married to him nonetheless. When Medium Alison asks her why she didn't leave him, her mother sings "Days and Days," a plaintive and confessional aria. She accepted the role of wife and mother, which to her meant submitting to the daily routine of maintaining a household. The days went by, and she went along with them passively. This response also suggests Helen's dedication to keeping up the illusion of a marriage for her and her kids' sake. But what Alison ultimately wants to understand is why Bruce, knowing that his daughter was gay, couldn't bring himself to confide in her?
It's clear that she admired her father as much as she craved his approval. But she was also wary of his frequent moodiness, when he could be angry or distant. Alison struggles with the idea of whether she is exactly like her father or nothing at all like him. What character traits has she inherited from him? We don't find out if she has ever suffered from depression or felt suicidal herself. As a musical, Fun Home limits its approach to these kinds of questions. A memory returns in song but frequently leaves crucial biographical material off stage.
In one early scene, Small Alison's brothers appear with her in "Come to the Fun Home," a boisterous number inspired by the Jackson 5. After that, they never grow up. How did they respond to their father's death, to Alison's coming out? We don't know. Fun Home is, above all, a first-person narrative. Why then does Lisa Kron, who wrote the book and lyrics, include the brothers at all if their only function is to perform a novelty act and then disappear? At its best, the musical conveys—to straight and gay audiences alike—the feelings that attend moments of queer self-discovery. Small Alison sings "Ring of Keys," an ode to the first butch lesbian she ever encounters. "Changing My Major" is Medium Alison's love song to Joan (Ayelet Firstenberg), the first woman she sleeps with.
Joan may have been Alison's first love, but what about currently? Is she dating or married? Or did her parents' relationship make her shy away from intimacy? She's allowed to be sexual in the past, but coming to terms with her father's death has subsumed her own life story, at least for the length of the show. Despite occasional flights of whimsy, Fun Home is suffused with a mourner's sadness. Alison doesn't solve the riddle of Bruce's suicide. Instead, the musical supplants his confused life in the closet with her bold artistry that's both out and proud.
Fun Home
Thru Oct 28, $35+
Mountain View Center for the Performing Arts
theatreworks.org