Arts
From Street Art to Street Wear
San Jose-based graffiti artist Sam Rodriguez designs shoe for Puma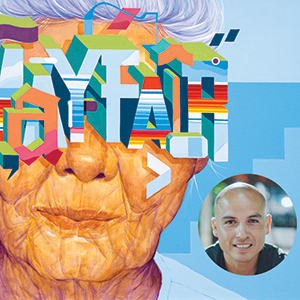 When he was just 12 years old, Samuel Rodriguez would routinely lace up his leather Puma Clyde basketball shoes at the stroke of midnight and leave his home on the East Side of San Jose to venture out plastering freeway bridges, buses and walls with his self-taught graffiti skills.
"I was in a bubble," Rodriguez says. "Taking the bus, all I saw was tagging and everything revolved around that."
Today, you can find 36-year-old Rodriguez working professionally on his craft in his friend's back-house-turned-studio in San Jose. The minimalistic cement wall rooms are decked with his Aztec-inspired prints and portraits of ethnic faces veiled with graffiti.
His family has been in San Jose since it was part of Mexico. Rodriguez says he's inspired by the diverse culture within his hometown. "A lot of times it's not art that influences your art," Rodriguez says. "It's other people, what you've learned that day, fashion ... sometimes you don't know that, but stuff starts emerging on your page."
In 2014, Rodriguez illustrated a limited-edition shoebox for an exclusive release of all metallic gold Puma Clydes, which were inspired and named after New York Knicks point guard Walt Frazier (1967-77). Rodriguez created a modern and galactic homage to Frazier—the first athlete paid to wear a basketball sneaker.
This year, Rodriguez has gotten the chance to design the very same shoes he wore as a young boy. With a detailed sketching of the Puma Clyde set, the Latino-inspired sneakers are set to be released May 5.
Rodriguez studied his craft at De Anza College and the California College of Arts. After graduating he worked for a design firm and took time to design bikes with a close friend before he dived back into the art world by taking a trip to showcase work in Japan in 2011. Over the past few years Rodriguez has created art for Samsung, LinkedIn and Google. Last year, Rodriguez partnered with Under Armour to design apparel to go along with Stephen Curry's shoes, the Curry 3.
Rodriguez has a passion for giving back to the San Jose community that raised him. He uses graffiti as an outlet to tell the story of people he has encountered. "I want to be a modern-day landscape painter," Rodriguez says. "Today's landscape painting is the cultural landscape, and being in San Jose I have a front-row seat."