Arts
SJMA Lands Knight Grant for Tech
San Jose Museum of Art will use money to beef up its technological offerings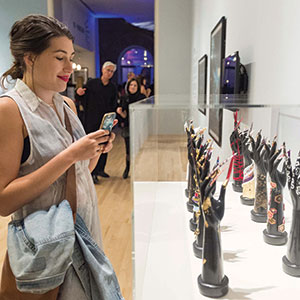 The leading edge is always on the move in tech, and it's a challenge for legacy arts institutions, such as art museums, to keep pace. But soon, the San Jose Museum of Art will have a little help in that arena.
The John S. and James L. Knight Foundation has awarded the SJMA a grant for a new hire designed to give the museum's technology capabilities a boost.
Eight museums in five cities across the U.S., including San Jose, will be able to hire new staff with the specific task of bringing new technology to bear on each museum's mission.
"These folks will be working between the curatorial arm, the educational team and other teams to think about how technology can impact the visitor experience," says Chris Barr, the Knight Foundation's director of arts and technology.
For many, particularly of the older generation, the art museum provides a respite from the relentlessness of tech in the modern world, and still offers an unmediated experience between art work and art appreciator. The challenge for museums today, Barr says, is to bring along technological advancements without compromising that core experience.
"I would hesitate to say that the conventional museum experience is no longer working," Barr says. "Lots and lots of people go to these spaces every day and have transformative experiences. At the same time, people also go to these spaces looking for art to enhance their social experiences, to make them think in new ways, to share and create conversations with others." The push to bring in technologically savvy curators, he says, is "to create delightful and stimulating experiences that go beyond the traditional nature of a museum."
Several large institutions have already recruited and hired technologists to enhance their staffs. The new Knight Foundation grants are designed to reach the next level of mid-size museums.
"We want to give (the selected museums) an opportunity to have someone who is technology-minded sitting at the table while they're planning exhibitions and being able to think about both the physical space and the digital spaces as touch points, and how best to utilize that digital space to achieve the goals of any individual exhibition."
As an example of how larger institutions have enhanced their exhibits with tech, Barr pointed to "augmented-reality" apps that allow people to access digital materials on their cell phones within the museum space that are invisible otherwise.
To take just one example, Barr says, "You go into a space, look at and interact with all the artwork, and have that physical experience. And, then, if you wanted to, you could pop open your phone and through the app, you could see these digital sculptures that you can only see through the lens of your phone, but that still relates and interacts with the architecture of the museum. Still, you want to think beyond the 'Gee whiz, wow.' You want to ask, how does tech help us showcase art relevant to our community? We can do that on our walls, and now we can do that in our digital space as well, capturing audiences that are quite new."
The position in San Jose will be manager of interactive technology. The SJMA is the only institution in the program west of the Mississippi. The others are: Charlotte, North Carolina; Detroit; Philadelphia; and Miami.
Barr says he also hopes the new positions expands the possibilities for job seekers in tech. "This particular position is going to appeal to someone who wants to make that mission-related impact while also moving their career in tech forward."
For more information on the Knight Foundation's new technology grants, go to knightfoundation.org.