Arts
Sculptor Bruce Beasley
Turns to 3D Printers
With computer-aided design, the Oakland artist is putting a
new twist on an ancient medium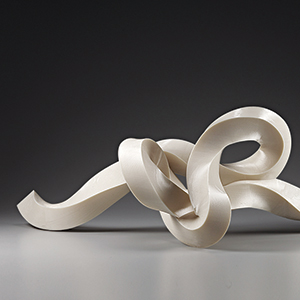 As a sculptor, Bruce Beasley never fails to surprise. Over the course of his five decade career, he has continually sought out new materials and techniques. An exhibition of new Beasley works, now open at Santa Clara University's de Saisset Museum, finds the East Bay artist exploring the brave new world of computer-aided design and 3-D printing.
"Bruce Beasley Recent Work: Coriolis and Torqueri," presents two series of sculptures—"Coriolis" and "Torqueri"—for the first time in an American museum.
The exhibition came about thanks to the late Paula Kirkeby, owner of Smith Andersen Graphics in Palo Alto. While visiting Beasley's studio with Kirkeby, de Saisset director Rebecca Schapp learned of Beasley's new work, which was then on display at the Museum of Contemporary Art in Beijing. Though Beasley has exhibited at the de Saisset before—on four separate occasions—Schapp says she couldn't pass up the opportunity to show the Oakland-based artist's new work.
The 12 ivory-colored pieces in the Coriolis series were fabricated from resinous material known as acrylonitrile butadiene styrene, or ABS. Using computer models, these lovely, sensuous sculptures were created using a large-format 3-D printer. According to Schapp, it took four days to print each of the four sections in each sculpture. A close look at the twisting, curving noodle-like shapes reveals the seams where the individual parts of each sculpture were joined.
In Coriolis XVII (2013), the ribbon of material seems to weave about itself—twisting and turning every which way before reaching an apex. A sense of movement is palpable, and the viewer is left in awe at the thought that a solid material could form such a sinuous shape. But don't get too caught up in the material or process, Shapp says.
"Bruce really doesn't want the emphasis to be on the 3-D modeling and printing," she says. "Those things are just tools to get to a specific form and shape, which are the most important aspects of his work."
In the exhibition catalog, Beasley explains that forms in nature are always a source of inspiration, but when it comes to creating a piece, he returns again and again to abstraction.
"Part of what I love about abstraction is that I am free from the constraints imposed by realism and context," he says. "Abstraction allows me to tap into a much richer vocabulary of shape than realism permits."
The works in the "Torqueri" series—which takes its name from the Latin word for twisting or bending—are fashioned from bronze and stainless steel. These metallic ribbons twirl, turn, loop and wrap around each other. In Torqueri IV (2015), they actually form a knot. Thanks to dramatic gallery lighting, the pieces exude a warm, golden glow and seem lighter than air. Shapp advises viewers not to take a static approach when examining each of the six sculptures.
"These pieces demand that you walk completely around them, in order to see how they change from various different perspectives," she says.
In addition to being a tour de force of shape and form, the sculptures in both series play with all the possibilities of texture. Some of the surfaces have been rendered as smooth as glass (Torqueri II); others (Torgueri V) have a variegated finish that captures and reflects light.
While these works would not have been possible using traditional carving or casting techniques, they represent just another step in Beasley's quest to find new methods of expression. "Remember that being an artist is a journey without a destination," he says. "It is an exploration of yourself."
In addition to the exhibition in the museum galleries, Beasley will be represented in the university's public art program with Rondo I (2013)—a stainless steel sculpture acquired as a partial gift from the artist—that will be installed just outside the museum.
Beasley will discuss his work in conversation with Dr. Hilarie Faberman on Thursday, Oct. 13, from 7pm-8:30pm. The event is free and open to the public.
Bruce Beasley Recent Work: Coriolis and Torqueri
Thru Dec 4, 11am-4pm, Free
De Saisset Museum, Santa Clara