Arts
Silicon Valley Artists Launch
Pop-Up Store
Empire Seven, The Arsenal, SJ MADE collaborate on Valley Fair store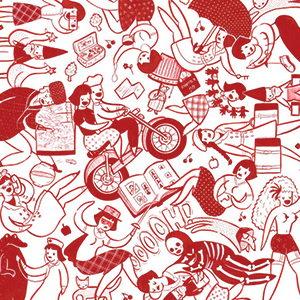 Deep inside the fluorescent jungle that is the Valley Fair mall—nestled amid the tangle of clothing stores, shoe sellers, cellphone accessory kiosks and other various merchandisers—there is a new shop that stands out. South Bay artisans and artists Local Label, The Arsenals, Empire Seven Studios, Classic Loot and SJMADE have joined forces to create what is arguably the most artful shop in the mall.
Occupying the space next to the Sephora makeup store, the collaborative Local Label collaboration pop-up store features more than 50 original pieces by local artists—curated by The Arsenal and Empire Seven Studios—a collection of vintage clothing and accessories from Classic Loot, and a rotating spotlight on different artisans and designers sponsored by SJMADE.
Calligraphy-infused portraits by Sam Rodriguez, small animal renderings by Jayde Fish (whose work was picked up by Gucci), and the pop art explosions of Tim Diet come courtesy of Empire Seven Studios—along with artwork from Kori Thompson, Tyson Johnston and Mildred and Pacolli.
Vintage clothing and accessories curator Classic Loot is best known for its shop on wheels, a food truck converted into a miniature clothing store.
The Arsenal is providing a condensed version of its normal offerings: retail art supplies and art workshops with a holiday bent. The local art store and gallery is also including all of the hand-pulled block print portraits from its last show, by Tomiko Rast.
SJMADE is presenting a revolving collection of products made by local artisans and creative types—with a new slate each week in December. First up is Screen Print San Jose, which is selling SJ-inspired silkscreen clothing. The following weeks leading up to the New Year include mini-stores by Le Petit Elephant, The Little Red House and Rachel Riot.
All of the organizations involved give credit to SJMADE's founder, Marie Millares, for working with Valley Fair and seeing this experiment to fruition. It wouldn't have happened without Marie, says Juan Carlos Araujo, co-founder of Empire Seven, adding, "She is like the queen of organizing in San Jose."
It's like a proverbial team of rivals—except in San Jose it's also a team of good friends. The collaboration comes at a precarious time for both The Arsenal and Empire Seven Studios; both businesses have lost their leases, and although both are in talks to rent new spaces, much is still up in the air.
Local Label Pop-Up Store
Dec 10-Jan 1
Valley Fair Mall, San Jose