Arts
Silicon Valley Contemporary art fair debuts in downtown San Jose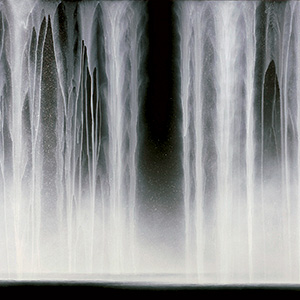 On a list of places best known for play—Aspen, the Hamptons, Palm Springs—Silicon Valley stands out as a region proud of its renown for work. The Hamptons Expo Group, which holds art fairs in all of the aforementioned spots, as well as in Houston, zeroed in on Silicon Valley as the next logical spot for such an event, because the monetary rewards of all of that work have created an area filled with potential art collectors.
Geared toward kickstarting new art collections. first Silicon Valley Contemporary art fair debuts in downtown San Jose April 11-13 with special preview events for VIPs on April 10. The fair offers works by 300 artists represented by about 50 national and international galleries. Locally, that roster of exhibitors includes the San Jose Institute of Contemporary Art, and new gallery-in-town, Pace Gallery, an international institution that's opening a branch in Menlo Park.
When asked the common thread among the locations of the company's art fairs, Hamptons Expo Group executive director Rick Friedman answers unabashedly. "Wealthy people," he says. "Who collects art and who buys art?"
The valley's longstanding reputation for generating tech millionaires is clearly attracting more than just hopeful programmers to the South Bay. But Friedman does have experience with his potential clientele—he says used to number among them. He calls himself "a graduate of Silicon Valley entrepreneurial computer magazines" who spent time in the valley during the dot-com era and whose earnings allowed him to begin collecting art.
Silicon Valley Contemporary focuses on fine art from the 1970s through the present day, with pieces that include video works as well as paintings and prints, sculptures, photography and textiles. Browsing the art fair's offerings is simplified for guests, who will be loaned iPads loaded with a database of the fair's galleries and works of the artists they represent.
Other interactive and digital elements include the U.S. premiere of Marina Ambramovic's The Mutual Wave Machine, and an exhibition of mobile photography featuring in-app demonstrations.
A panel discussion will explore the idea of Silicon Valley as art incubator. "Has it created a sort of approach to art that is unique to the area?" Friedman says.
Among local events affiliated with Silicon Valley Contemporary are a new version of the San Jose Institute of Contemporary Art's Monotype Marathon—a party where guests can make their own monotype prints in the SJICA's print center; a VIP tour of the San Jose Museum of Art, a tour of Zero1 Gallery and happy hour with its executive director, Joel Slayton, and a Silicon Valley Modern Home Tour.
Silicon Valley Contemporary
April 11-13
San Jose McEnery Convention Center
$25-$250