Arts
Silicon Valley Open Studios
Silicon Valley Open Studios encourages getting up close and personal
with local painters, photographers and sculptors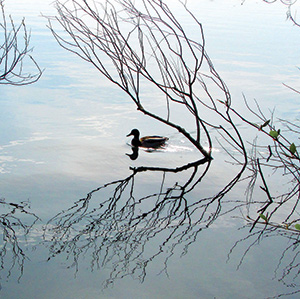 The South Bay and Peninsula are awash in creativity. That's clear from the region's tech prowess. But the leaders of Apple, Google, Facebook and Adobe aren't the only inspired minds in the area. Silicon Valley is home to myriad visionary artists.
And for the next two weekends, photographers, painters and sculptors from Campbell to Palo Alto will be showing their works at the 29th annual Silicon Valley Open Studios.
According to Mel Thomsen, president of SVOS, the overall objective is "to encourage a close, personal relationship between artist and art lover." The concept behind the event is pretty simple and low-maintenance: artists open their studios or homes, allowing visitors to see their art, ask questions and, hopefully, make a purchase. There is no charge for visiting the studios and, unlike in a gallery, the artists keep all of the income earned from sales of their work. Thomsen sees the event as a sort of "incubator for young and emerging artists."
Begun in 1986 as a non-juried event for artists living in Santa Clara County, Open Studios has grown steadily over the years. The organization, which is run by volunteers and overseen by a six-person board of directors, relies upon artist entry fees as its main source of income. That revenue is used to cover the costs of the graphic design, printing and distribution of the artist directory, which is sent to over four hundred locations. In addition, extensive information about each participant can be found on the SVOS website. That sort of exposure is invaluable to any artist, whether they are seasoned veterans or just beginning.
This will be the 12th Open Studios for photographer Yao-Pi Hsu of Mountain View. Like many artists in this area, Hsu has made a career in high tech—working as a bioscience researcher at Stanford University. She has traveled back to her native China in order to capture the flowers and landscape there. This year she will feature some work from a "water/abstract" series as well as some lotus reflection photographs she took in Maui. "Each year I show some new work and try to get feedback from the audiences. I love to explain and share the story behind the photographs to visitors," Hsu says.
Denise Howard is a colored pencil artist who works in a realist manner. This is her fourth year participating in the Open Studios, something she did initially to gain local exposure. "It has expanded my network of other artists and friends of the arts, which in turn has given me opportunities to present my favorite medium to an even wider audience," Howard says.
Her intricately detailed florals, landscapes and portraits will be on view in her studio space, located behind her Santa Clara home. Howard says that sales are often modest, which is okay because she also sells giclee prints and cards of work. "Anyone can afford to take home a little something of my work that speaks to them," she says.
This will be sculptor Stephanie Metz's second year as a participant, but she is hardly a newcomer to the regional arts scene. Metz was recently recognized by Silicon Valley Creates—receiving an Artist Laureate Award in the "Off the Wall" category. Metz plans to show her felt sculptures (three dimensional creations made of needle-felted wool) and wool drawings (made by forcing black wool through paper).
Rather than displaying her art in her home, Metz will combine efforts with nine other artists at the School of Visual Philosophy Studios in San Jose. She feels that Open Studios provides a chance to really see the work that goes into making art.
"My studio complex is a real workshop," Metz says. "Audiences get a window into all the work and craftsmanship and practice that goes into producing the finished works of art they see."
If being in business for 29 years is any indication, there is a need for an event like SVOS—both for the artists and for the public. And whether your interest lies in painting, drawing, photography, sculpture, jewelry or ceramics, there is probably a studio nearby and an artist eager to share their work.
The second weekend of Open Studios (May 9 -10) encompasses the central Peninsula area, with venues from Ladera to Santa Clara. The third weekend (May 16-17) features the South Bay (Campbell to Morgan Hill) and the Pacific Coast (Montara and Half Moon Bay). A detailed directory of the 394 artists who are participating this year, along with helpful maps, can be found on the Open Studios website.
Silicon Valley Open Studios
Mountain View to Morgan Hill
MAY 9-10 & 16-17
Free