Arts
First Fridays
South First Fridays has become First Fridays, extending to venues
throughout downtown San Jose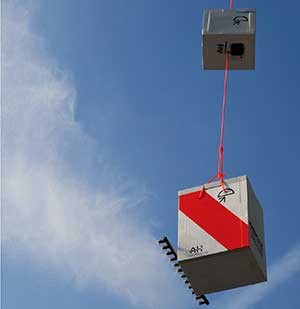 This author can remember when First Fridays started eight years ago. It comprised just about a handful of galleries, a paltry offering at best. Now, at least this time around, the event incorporates weather modification, artist pinata beatings and jazz photographs.
Somewhere in the vicinity of 25 venues now participate, extending beyond South First Street and beyond just galleries. Kaleid Gallery at Fourth and San Fernando is now a longtime hotspot. Other places off the main strip include Good Karma Vegan Cafe and Mezcal, the latter of which this time around provides paintings by J Danniel of the legendary Frida Kahlo, a bitchin' accompaniment to your plates of salmon and grasshoppers. Good Karma will likewise present a rocking array of paintings by Omar, who describes his work as a "beautiful mess of colors deeply rooted from the soul." That should be a fantastic way to harmonize with plates of Jamaican Jerk Tofu and a fine Belgian Ale, or tea from Satori, which the joint so proudly displays on top of the counter.
In that sense, to be honest, it's often impossible to hit every single place during First Fridays, which is precisely the idea nowadays. This signifies growth, for crying out loud. Instead of just a few local characters prowling around South First Street, one often witnesses a throng of brand new connoisseurs, maps in hand, looking to investigate whatever creative talent happens to emerge. It's easy: One just peruses the map, scans the website for the info, and voila, it turns into a wonderful night. And did I say the art sells?
This time of year, there's also the STREET MRKT, the title of which constitutes exactly the type of strange and intriguing urban-street-art-nomenclature that confuses the more highbrow types. At the market, creative independent businesses hawk their wares. Artists sell their paintings. Dudes walk around on stilts. There's even a few hippies.
It doesn't stop there. Cafe Stritch, the best reincarnation of a naturally-dying bluehair eatery, now functions as a de facto headquarters for the main First Friday strip. Interesting people overflow out onto the sidewalk, the beer flows and the creative energy is simply infectious. This month, for example, Stritch offers a new twist to First Fridays. No Walls Between Us, an exhibit of jazz-musician photographs by Kathy Sloane, appears just in time to advance-celebrate Roland Kirk's birthday week, and just in time to advance-promote the San Jose Jazz Summer Fest. This is important for several reasons, primarily because it demonstrates how much both First Fridays and the Jazz Festival have evolved. The Jazz Fest is no longer a suburban commuter festival; rather, it's fully intertwined with the arts and music and nightlife goings-on in the community itself.
Down the the block at the ZERO1 Garage, artist Karolina Sobecka will showcase Cloud Machines, a public hearing, presentation, balloon launch and workshop, transforming the venue into a Cloud Lab where the public can examine devices for weather modification and collecting cloud moisture. A highlight of the project is the launch of two weather balloons.
As if that wasn't enough, MACLA will feature work by Las Hermanas Iglesias, who are officially inviting everyone to beat up two pinatas that look like the artists.
Simply put, one cannot find this conglomeration of creativity anywhere else in the South Bay. And unlike the Jokeland Art Murmur, this First Friday attracts people that actually want to look at the art. It is very safe to say that if not for First Fridays, the entire South First Street area would never have grown into the creative, synergistic web of jewels it is today. Some of those jewels may be tarnished, but I like it that way.
First Fridays
Fri. Aug. 2; 7-11pm