Arts
Preview: South First Fridays
November 2013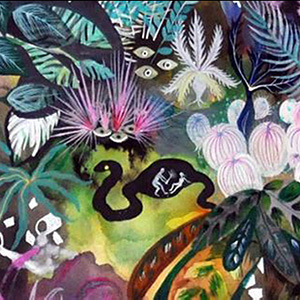 Halloween is just one day a year, but South First Fridays offers a sort of trick-or-treating every month. The gallery walk encourages visitors to go door-to-door in the SoFA district and other downtown neighborhoods, where the treats at local galleries, shops and restaurants include art shows, receptions and art activities. This month South First Fridays follows up Halloween a day later on Nov 1. Here's a small sampling of shows and activities going on around downtown. The full list of participating spots is available at southfirstfridays.com
This gallery, operated by the founders of South First Fridays, opens "The Wind Whips the Palm Fronds," an exhibition of colorful, detailed new works by Megan Diddie. Also continuing: "Suicide," mixed-media pieces by Barron Storey that explore the motivations of those who kill themselves—and delve into the emotions of those they leave behind.
Art Ark
It's not strictly walking distance from many other SFF participants, but the Art Ark offers some real bang for the buck of going just a bit outside of downtown proper: "The More the Merrier IV" is an exhibition and art sale showcasing the works of 51 local artists. And it promises to offer a lot of art per square inch: artists have been encouraged to pack as many of their pieces as they can into their given spaces. If may be a bit crowded, but it certainly won't be gauche—the event is styled after a French salon, where it's all about meeting the artists and discussing their works.
Longtime local artist Al Preciado teams with Andre Hart for "Flowers," an exhibition that includes paintings that the duo created collaboratively. The exhibition plays on contrasts, including the generation gap between the two artists (one a Baby Boomer, the other Gen Y) and the push and pull between creation and destruction, and chaos and control.
Bay Area artist and designer Eleanor Lawson has cred as a comic book production designer and a degree in the industrial arts. Her exhibition at Tech Shop includes pieces she's created using Computer Assisted Design and a 3D printer, as well as interactive sculpture.
Discover San Jose
This boutique celebrating all things San Jose opened over the summer. True to its mission, Discover San Jose offers an interactive talk on art for this art walk. The shop invites visitors to help create a community art piece, keeping in mind the theme "San Jose: Wish You Were Here"—what makes San Jose special to them. (Is that also a personal message to the Stanley Cup? Or is that "you will be here"?)