Arts
Preview: South First Fridays
October 2013
The street fairs are over for the season, but there's still plenty
of art walking to do at South First Fridays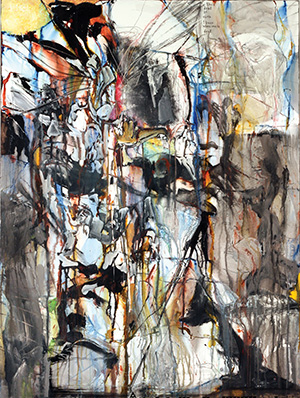 What started out as a quiet little art showcase has, eight years later, grown into one of San Jose's most appealing artistic attractions.
A collective public showcase of San Jose's creative business and culture, South First Fridays takes place, as its name suggests, on the first Friday of every month. Scores of local art galleries, bookstores, and cafes in downtown San Jose open their doors to the public, providing an unmatched glimpse of the cultural life of the city.
This Friday, Oct. 4, will be no exception, with a vast array of attractions and businesses participating in an art walk that will include interactive art installations and live music.
In the summer months, South First Fridays are supplemented with outdoor events—the SubZERO festival in June, and then Street MRKT, a urban fair with local arts and crafts and music. But when the street fairs and the warm weather have gone, the art walk at the heart of it all remains—a year-round institution.
"Many fans of the South First Fridays Art Walk are introduced to San Jose's art scene through our summer programming, which includes SubZERO Festival and STREET MRKT. Besides exposing the art and culture thriving here year-round to a broader audience, these outdoor events shed a light on how important art is to our city's economy," says Brian Eder, co-producer of South First Fridays. "It's just as important that people continue to come out on First Fridays from fall through spring to attend the openings and support the culture. Without the work the galleries, museums and artists do throughout the year, South First Fridays outdoor events wouldn't exist."
Some establishments will be providing some cool perks for visitors and all the art venues are free—also unique to South First Friday. Many galleries will use the occasion to premiere new shows.
Perhaps the most appealing aspect of South First Fridays is its accessibility. The art walk is self-guided and participating establishments are all located within about a ten block radius, allowing patrons to either experience the entire event—or pick and choose the locations they want to visit.
Here's a small selection of the great things going on this Friday:
MACLA - De Esperanza y De Locura/Of Hope and Madness
510 South First St. Artwork focused around a mural by artist Favianna Rodriguez, works by many artists focus on the issue of immigration symbolically as "flights of both hope and insanity." Immigration continues to be in the public consciousness, though the dialogue has shifted, MacLA executive director Anjee Helstrup-Alvarez notes, with immigration reform gaining attention from high-tech firms.
"She's emblematic artists working today," Helstrup-Alvarez says of Rodriguez. "Her work is through the arts, but she's also very much an activist. Through immigration rallies, through the arts, she brings this issue to a broad public discussion." Patrons are welcome to pose as a monarch butterfly in front of Rodriguez's mural. Live hip-hop performance by FAVI from 8-10.
Seeing Things Gallery - Dave Dave Dave
30 N. Third St. Selected photography from Dave Carnie, Dave Shubert, and Dave Franklin. The former editor of Big Brother Magazine and renowned photographers Dave Shubert and Dave Franklin come together for an eclectic showcase.
San Jose Museum of Quilts & Textiles
520 S. First St. An array of quilt collections, including "Tasty! Food Inspired Quilts" by Yolanda Guerra (a sixteen panel quilt with each frame of a local food), a San Jose artist, "Collecting New York's Beauty Quilts" by Bill Volckening, and "Out of Chaos" by Linda Toeniskoetter
Works San Jose - Those Who Bear Witness
365 S. Market St. A mixed media exhibition curated by Guy Pederson showcasing photography by Elisabeth Benjamin and art by Daniel and John Merchant. Includes an interactive "tree of life" and sidewalk art, with participation welcome.
Phantom Galleries - Heritage of a Rural Life in India
88 S. Fourth St. Indian artist Yasala Balaiah brings his bright 'Telangana Women' paintings to Phantom Galleries; each piece a vibrant perspective of rural Indian life.
Anno Domini - Barron Story/Cement Eclipses
366 S First St. Opening Oct. 4 is "Suicide,"- a new series by illustrator and fine artist Barron Storey. The series delves into the struggle to understand the "why" of suicide. Also: Spanish street artist Isaac Cordal contemplates human social behavior. Focusing on the mundane tasks of the modern life, Cordal captures man's dissociation from nature, through the presentation of miniature sculptures.
South First Friday
SoFA District
Oct. 4 7-11pm
free