Arts
Studio-Bongiorno
A new space to enjoy art in the South Bay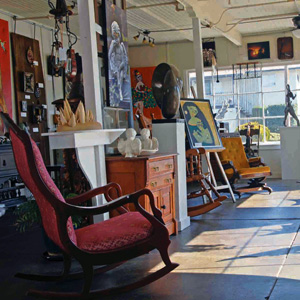 A whimsical chalkboard sign outside the studio-gallery reads, "Voted number one place to hang out by the cemetery." Located across the street from the historic Santa Clara Mission Cemetery, Studio-Bongiorno is a new space to enjoy art in the South Bay. Owner Phil Bongiorno revels in his unusual site; he thinks the proximity of the graveyard provides a peaceful atmosphere. It's also a neat tie-in to his art, which is often inspired by tombstones and stone angels.
The studio opened last October in the old California Monument Company building, where tombstones were produced for the cemetery. The structure is a work of art in itself and complements the pieces hanging inside. Much of Bongiorno's own work is featured, as well as selections from other artists that rotate on a monthly basis. The open, airy lot includes a main room and a smaller back building with two courtyards in between. Bongiorno has countless ideas for how the space can be used, ranging from poetry readings to book signings to music nights. On April 25, the gallery will host an event for photographer and photojournalist Robert Altman, who documented a great hunk of the music and politics of the 1960s for Rolling Stone.
More than anything, Bongiorno places an emphasis on making the studio a place where the community can hang out, a place that will bring people together. The idea is to bring a San Francisco art gallery feeling to the valley. The studio has coffee, tea and a variety of small gifts for sale like soap or greeting cards. Featured artists mill about, helping "gallery-sit" as part of the price of having their work displayed. Bongiorno himself embodies the spirit of the studio in a cowboy hat, skull jewelry and multiple tattoos. His boundless enthusiasm for what the gallery could someday become is inspiring—he just started creating art about seven years ago and has found success using spray cans and mixed media.
To Bongiorno, art encompasses the whole human experience: "It's life, it's death, it's happy, it's sad, it's heaven, it's hell, it's everything and nothing." His philosophy is that everyone who views his art brings something new to the experience and takes from the piece what they need.
Studio-Bongiorno
Monday-Wednesday, 10am-7:30pm, Friday-Saturday, 11am-8:30pm, Sunday, 10am-2pm
500 Lincoln St., Santa Clara.