Arts
'Taco De Ojo' at Anno Domini
Latino Toons collective brings Taco De Ojo' exhibit to Anno Domini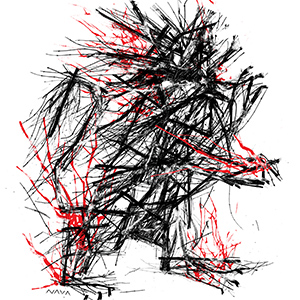 Last year, Juan Nava—editor of Latin American poetry and art magazine Taco De Ojo and founder of the Latino Toons collective—was in town for a comics expo, when he happened to wander by San Jose art gallery Anno Domini. While there he intrigued co-owner Cherri Lakey with some of his Latino Toons work, sowing the seeds for the collective's first group show.
The exhibit, titled "Taco De Ojo," premieres at Anno Domini on Feb. 6, during the monthly First Friday art walk. It will feature 18 artists from four generations and at least six Latin American countries.
Nava is pleased he decided to take a walk that fateful day and refers to his meeting with Lakey as a "happy coincidence."
For her part, Lakey is also pleased that Nava took the time to stop by her gallery. "We 'find' our artists in a myriad of different ways," Lakey says. "The way we find artists isn't the important thing; it's the ability to recognize what you're seeing as something great. The Latino Toons collective fits with what we look for and is something we want to put out there for others to see and experience."
Nava had the idea to form the collective after continuing to run into the same group of Latin American comic artists, zine-makers and illustrators at various events. "I contacted several friends—like, 'Hey I'm putting out a new zine'" Nava says. Given that all the artists hailed from different regions of Central and South America, "it kind of logically made sense to give each country a certain number of pages—and that we would create a true Latin American publication."
A small-run magazine which has already published three issues, Taco De Ojo is the Latino Toons collective's main showcase. Although it started small, by just its second issue the magazine was showcasing art from every South American country except Paraguay.
Latino Toons' DIY, comic-inspired aesthetic means that the magazine is printed mostly in black and white—only employing color "when it's absolutely necessary."
That doesn't mean the artists themselves are color averse. In fact, much of the work featured in the upcoming exhibit is bursting with color and prismatic intricacy.
"We have a [strong] relationship with underground comics. That, combined with stuff that has to do with, say, Bolivian carnivals, creates a unique, indigenous, presence," Nava says. "Most of us are also interested in the idea of a Latin American perspective that's not nationalist, ethnographic or racist. Instead, it's looking beyond your borders to your neighbors."
Nava says he finds Latin American attitudes toward art and culture problematic—especially when it comes to comics. "In Latin America, the powers that be are totally conformist and pro mainstream American crap comics," he says. "Now, I don't have anything against Batman, but it's a far cry from the things we're interested in."
And it shows. The works featured in the "Taco De Ojo" exhibit are clearly motivated by underground and counter cultural forces. They also reflect the different identities of the collaborators. With artists hailing from Brazil, Colombia, Mexico, Peru and Argentina, the influences and inspirations draw from an incredibly wide cultural pool.
Even with its financial and logistical restraints, the Latino Toons collective shows no sign of slowing. Its next planned project is a 300-page silent comic focusing on indigenous groups in Latin America. Beyond the ambition of a dialogue-less narrative, it will require a great deal of research, documentation and interviews. "It's a different type of collaboration," Nava says—"kind of like a collective conversation."
As for the collective's first group show—which is thousands of miles away from many of the artists' homes—Nava is both hopeful and pragmatic. Due to costs and logistics, it was difficult for many of the artists to ship their work to San Jose, and even harder to make the trip to the Bay Area. As such, Nava will be the only artist at the show.
But he isn't worried. Nava believes the work speaks for itself and is excited at the possibilities a show like this brings. "Hopefully," he says, "more than anything, the show will get people looking south."
Taco De Ojo
Feb 6-Mar 14, Opening Reception Friday,February 6th 7pm-11pm