Arts
Tandy Beal's 'Joy!' Comes
to San Jose
The veteran dancer and theater producer fuses brings
a Christmas circus to the Hammer Theatre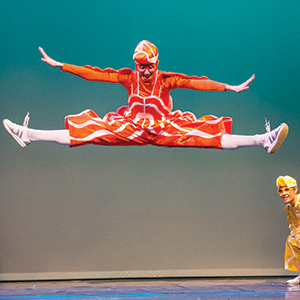 Few people can cast a spell simply by entering a room. Tandy Beal can. With the carriage of a queen and the grace of a Botticelli sylph, the dancer-turned-impresario personifies joie de vivre.
Energizing a stage or critiquing a new work-in-progress, Beal is as fully alive, active andengaged as it is possible to be. Or at least that's what it looks like to her many students, audiences and fellow dancers. And it has for more decades than seems possible.
Beal of the dark eyes, long limbs and infamous mane of Pre-Raphaelite hair just can't quit. She's been everywhere, collaborated with everyone from Frank Zappa to Bobby McFerrin, and directed both the Moscow Circus and Pickle Family Circus. Her company, Tandy Beal & Company, has been provoking wonder and joy for 43 years. Once you've done all that, it's hard to stop.
And what doesn't stop is Beal's faith in the magic of live performance. "We're all in the present moment," she insists, her eyes shining. "We are together. And anything can happen. This moment in real time, with all its joys and possibilities, your whole body shares the experience."
In her life of performative immediacy, Beal and her repertory company of dancers, singers, acrobats and clowns invite audiences "to be part of something larger than themselves."
Beal spent the past summer in New York "doing solo work again." There she discovered that she still had all her own dancerly wits about her. She'll be among those performing in the upcoming Holiday Show. Joy!, her latest holiday-themed production, will include plenty of new material, plus a few choice nuggets from Mixed Nutz, Beal's updated Nutcracker Suite tour de force.
"I've lived in the world of circus—and, for many years, of music. Joy! is a braid of those languages—circus, music, and dance—multilingual production," she says, calling out some of the bits she's most excited about in the new show. "Highlights from the Nut, like the Russian hip-hop dance—very fun. My two dear pals from the Pickle Family Circus, great physical comedic actors who went on to Cirque du Soleil, Jeff Raz and Diane Wasnak. These two clowns together have a chemistry like Laurel and Hardy."
The show's title evolved after lots of brainstorming. Nothing seemed quite right. "So I stopped and asked myself, What am I doing?'" she recalls. "And the answer was that I want to bring some joy to people. So ... Joy!"
"We need this; we need joy," Beal says.
Joy! A Holiday Show
Dec 7-9, $15+
Hammer Theatre Center, San Jose
tandybeal.com/joy