Arts
The Art/Life Forum Comes
to the Mexican Heritage Plaza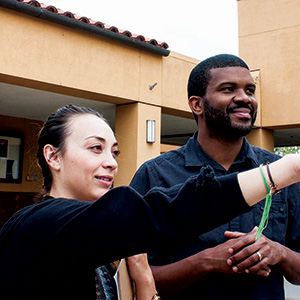 When Demone Carter broadened his job description from rapper to rapper/youth arts mentor a decade ago, he was struck by the alarming lack of multicultural leadership in the nonprofit world. A few years later, a study confirmed that observation: fewer than 10 percent of nonprofits are led by people of color. The statistics look worse for boards of directors.
"At the end of the day, experience is the ultimate authority," he says. "When you have folks in leadership positions that only represent one set of experiences, the decisions that they make and the leadership style is always going to be tone deaf to certain aspects of our community."
That's the impetus behind the Multicultural Arts Leadership Institute (MALI), a series of classes offered through Mexican Heritage Plaza that aim to foster diversity in Silicon Valley's arts community. Come April 25, MALI will host its inaugural Art/Life Forum to showcase some of that work through a series of panels, workshops and live entertainment.
"This is our coming-out party, in a way," Carter says. "We've been around for seven years, really strengthening local artists and training leaders and this is our first time holding this public event to show people what we're about."
Carter, a MALI alum himself, has seen the program's graduates take on influential roles in the South Bay's creative community. Wisa Uemura stepped up as executive director of San Jose Taiko. Yosimar Reyes became a nationally known poet and activist. Elisa Orona, an administrator for Asian Americans for Community Involvement, was named one of Silicon Valley Business Journal's "Women of Influence 2014."
In 2012, Carter founded Future Arts Now, an after-school program that connects underserved youth with adult role models who excel at an art form, whether it's breakdancing or spoken word or rapping.
"As we're growing, I've noticed that these groups are starting to become more connected and more collaborative and folks are really pushing to make their mark here in Silicon Valley, in San Jose," he says. "I see more of an organic, hands-on growth in the multicultural arts scene. People of color are participating more and taking charge of this."
Stanford University lecturer Kevin McCarthy, a senior associate at leadership consulting firm Change Logic, will deliver the forum's keynote speech. Workshop topics include one on the art of schmoozing, another on successful creative collaborations and how to tell your project's story.
"San Jose, Silicon Valley, we're among the last urban places where you can still make a mark because it doesn't have as established an art scene the way Oakland or San Francisco does," he says. "We want to seize that moment by making sure the leadership positions on the ground floor represent the cultural diversity of this region. Let's get everybody to the table, let's make sure everybody's voice is heard."
The Art/Life Forum
April 25, 8:30am-4:30pm
The School of Arts and Culture at Mexican Heritage Plaza